The UK Government has been accused of acting too slowly to secure flood victims in Aberdeenshire with a share of £52million worth of relief.
More than 600 homes and 100 businesses across the region were devastated during Storm Frank.
In an effort to help some of the worst-hit communities recover, the Westminster government successfully applied for disaster funding from the EU's Solidarity Fund.
A total of £52million was awarded in April, which is to be used across 11 flood-hit areas across the UK, including the north-east.
But nearly two months on, the cash has not been distributed – prompting calls for swift action to help those still trying to get back on their feet.
West Aberdeenshire and Kincardine SNP candidate Stuart Donaldson argued that both the Portuguese and Cypriot governments asked for early access to help deal with the aftermath of droughts and forest fires.
He said: "It's time for the UK Government to release this funding now to our flood-hit communities.
"They have waited a considerable amount of time for this funding to become available and I cannot understand why our ministers decided against an early release of these substantial funds. Both Portugal and Cyprus took up this option so why not us?
"Many homes and small businesses in Ballater, Kemnay, Maryculter and Marykirk are only now beginning to recover from the impact of the storms.
"They have bounced back due to a strong community effort but need and deserve as much financial assistance as possible and, as soon as possible."
Mr Donaldson has now written to the secretary of state for communities and local government to ask for clarity on when the cash will be distributed.
Meanwhile, his Labour counterpart Barry Black has said the money will be vital in the ongoing efforts to rebuild.
He said: "The Tories have serious questions that must be answered here. I was working in the response centre during Storm Frank and know how devastating it was, and continues to be, for businesses and local communities.
"We can not afford a repeat and these monies will be vital in rebuilding and protecting our communities."
The UK Government has previously outlined its commitment to protecting flood-hit communities.
Andrew Percy, the parliamentary under-secretary of state for communities and local government, said in January: "The UK Government continue to stand squarely behind those flooded, working with local authorities to ensure households and businesses receive all eligible support.
"Furthermore, we are focused not only on ensuring the recovery from these floods, but also on preventing future damage – we are exceeding our manifesto commitment by building 1,500 new flood defence schemes that will better protect 300,000 more homes."
The other candidates for West Aberdeenshire and Kincardine are the Conservative's Andrew Bowie and Liberal Democrat John Waddell.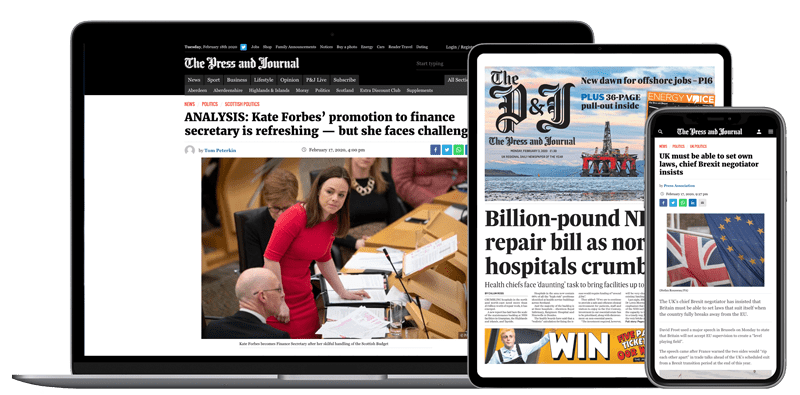 Help support quality local journalism … become a digital subscriber to The Press and Journal
For as little as £5.99 a month you can access all of our content, including Premium articles.
Subscribe