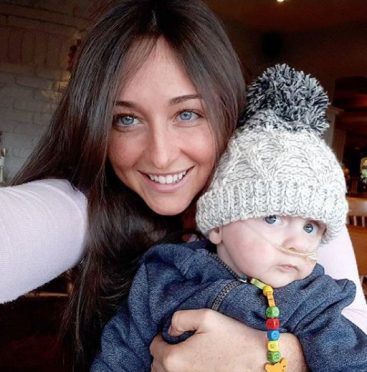 A north-east family celebrated the New Year by watching their 18-month-old son eat for the first time without the aid of a tube.
Henry Dryburgh's battle for survival started before he even came into the world when he stopped growing in his mother's womb when she was just 23 weeks pregnant.
And after he was born, weighing 1lb 9oz, his parents Lauren Knight and Grant Dryburgh were warned that, if he survived, he would probably have brain damage.
During the first year and a half of his life, he had to be fed through a tube and vomited uncontrollably at the smell of food.
But now, after taking part in a Notube netcoaching programme for the last month, he has managed to eat both rusks and custard.
His father responded that the news had transformed the Alford-based family.
He said: "We are so proud of him, it has changed his life and it has changed our lives – he sat between us both at the table for Christmas dinner and had some custard.
"It's a real Dryburgh trait, we all love custard!"
Despite being told he might have brain damage, the youngster astounded doctors late last year by learning to talk. And his mother spoke of her pride at his progress.
She said: "He is now racing through his developments, saying more words and copying us both. We were always worried about taking him out with us, but now he is stronger we can do so and that is a real weight off our shoulders.
"We'll be working our way up to more solid food."
More than 3,000 infants have benefited from the Notube netcoaching programme during the last 30 years.
The method allows children to feel hungry and take the lead in digesting both solid and liquid food.
The programme, which has a 90.5% success rate, is specifically tailored to each child's needs and aims to make eating an enjoyable experience.
As a result of the success, the youngster has avoided the need for surgery.