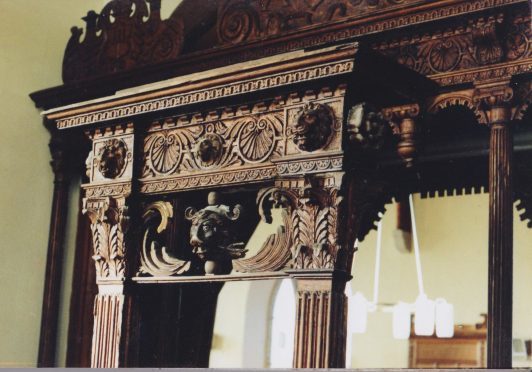 A fresh appeal has been made for the return of a priceless north-east treasure – 17 years after it disappeared.
Part of the historic Laird's Loft was stolen by thieves who broke into Peathill Kirk, near Rosehearty, in 2001.
Those responsible ripped off an ornamental lion's head from the 17th century pew.
But now, it is hoped the missing piece can be returned to its rightful place.
The appeal comes from the Friends of Pitsligo Castle who are hoping to fully restore the loft, which was built in 1634 for the first Lord Pitsligo and bears the family's coat of arms.
Anyone who may know where the lion's head is being kept has been urged to send it back anonymously in the post.
The 6in carving is widely regarded as one of the finest examples of Jacobean wood carving.
Therine Henderson, chairwoman of the Friends of Pitsligo Castle, said they just want to solve the mystery.
She said: "Somebody went in one morning and we suddenly found it had been ripped out and it was the only thing that was touched.
"They had obviously gained entry, the door was not damaged as far as we can ascertain.
"We just want it back. If you had a masterpiece like this, you would certainly get a lot of interest in it.
"It is supposed to be the best Laird's loft in Western Europe and it is a beautiful carving.
"There are 10 other lion's heads on it, but this one was exquisite."
Mrs Henderson also made a direct appeal to anyone in the north-east who knows of the wood piece's whereabouts.
She added: "It is part of the heritage of Rosehearty and we do not want to profit from it.
"Do the people who took it realise the importance of it?"
"This seems to be the last chance saloon. If we do not get it back now, what will happen to it?"
Anybody with information is urged to contact the Friends of Pitsligo Castle on 01346 571419, or return the carving to 4 Kings Street, Rosehearty.