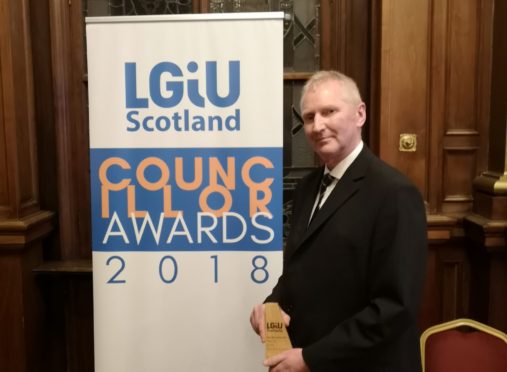 A north-east councillor has been recognised for his problem-solving efforts with a national award.
George Carr, who has represented the Mearns since 2007, was commended for working tirelessly  to protect community assets and deliver projects for his constituency.
In particular, he was credited with fighting for a dispensing pharmacy, helping to keep a community centre open and securing improvements to a beach car park.
The successes won him the Rural Community Champion award at the Local Government Information Unit (LGiU) Council Achievement Awards, which were handed-out at a ceremony in the Edinburgh City Chambers.
Speaking at the ceremony, LGiU chief executive Jonathan Carr-West said: "It is fantastic to hear stories of local councillors working selflessly for the community and bringing real benefits to residents.
"Councillor Carr has demonstrated huge talent and dedication."
The Councillor Achievement Awards are the only national ceremony to recognise and reward the efforts of councillors from across the political spectrum.
Mr Carr said: "This award was a complete surprise and it was great to see a few of us from Aberdeenshire being nominated.
"As councillors, we do what we do on behalf of our constituents and there is a lot of team work required to enable us to make a difference.
"It's about finding solutions to residents' problems and helping them in their endeavours.
"The Mearns is a fantastic area to represent with so much history and culture and the villages are a joy to represent, with each having its own unique identity.
"And there's a real community spirit here, which is great."
Mr Carr named the opening of the Bervie beach car park, keeping Laurencekirk community centre open and the solution of a raft of issues for residents of Edzell Woods as among the highlights of his time as a councillor.