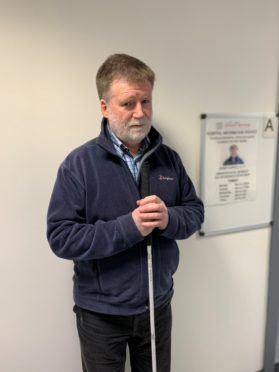 A north-east RAF veteran is urging the public "not to underestimate" the visually-impaired.
Eddie Carroll, 66, who has the hereditary eye condition retinitis pigmentosa (RP) has spoken out about his experiences of 'ignorant' comments from strangers and invasion of his personal space.
The father-of-two from Inverbervie, says he has always adopted a defiant and determined attitude regarding his eye condition – which will one day lead to total blindness – and admits that regular comments questioning his sight loss can make him feel extremely frustrated.
With additional support from charity Scottish War Blinded, Mr Carroll leads a busy life as a Hospital Information Officer, helping people who have been newly diagnosed with a sight condition.
He is asking for more awareness and understanding about what life is like with sight loss, with many conditions seemingly not as obvious as others.
Mr Carroll, who lives with his wife of 33 years, Cheryl, and their two dogs, Brodie and Orrin, said: "I have never had a problem with my eyesight, but it sometimes feels like some sighted people have a problem with my eyesight.
"For me, visual impairment is not the top of the league table of worries.
"There are worse things, but that is for the individual to decide."
He was diagnosed with RP in February 1997, and revealed he has adapted to the condition all his life – even as his sight deteriorated rapidly in the first three years following diagnosis.
Many people who lose their sight later in life need help to adopt simple skills to enable them to live more independently at home & to feel more confident when out and about. Our rehabilitation officers teach these skills, providing lots of encouragement & tailored support. pic.twitter.com/b2MkqPIu8b

— Scottish War Blinded (@ScotWarBlinded) March 4, 2019
Now with "no visual fields to speak of", the condition results in ever-narrowing tunnel vision for Edward, and could eventually render him with only simple light reception. There is no cure.
Sharon McAllister, Scottish War Blinded rehabilitation officer, said: "The Scottish War Blinded rehabilitation team works closely on a one-to-one basis with each of our members to ensure they feel comfortable, confident and safe in being out and about.
"We can provide cane and route training for our veterans, as well as equipment free-of-charge to help them maintain their independence.
"But the more awareness sighted members of the public also have about what it's like to live with a sight condition – emotionally, physically and practically – the better people with vision impairment can be supported to live full, independent lives."
For more information on the support that Scottish War Blinded can provide, call 0800 035 6409.