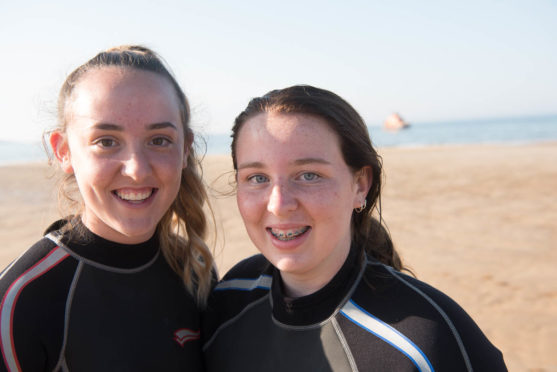 Two sisters were last night hailed as heroines after they saved a man and his four-year-old son from drowning.
Isla and Eilidh Noble were soaking up the last of the day's sun at Fraserburgh Beach when they heard cries for help.
The pair spotted a man struggling in the water with a young boy on his shoulders and sprang into action –with quick-thinking Isla, 15, jumping into the water with a lilo.
She hauled the four-year-old on to the float while another passer-by, Keith Gray, swam out to help pull them to shore.
Eilidh, 14, meanwhile remained on the beach and raised the alarm with the emergency services, before researching the recovery position online.
An air ambulance was scrambled to the scene, while RNLI Fraserburgh also attended.
The man, who was "blue" when he was pulled from the water, regained consciousness on the beach and was flown to Aberdeen Royal Infirmary as a precaution – but not before he thanked the girls for saving him and his son.
Isla said: "To begin with I thought they were just playing but then he started to shout 'help'.
"I didn't think – I just swam out as quickly as possible and pulled the kid on to the lilo."
Eilidh said: "He had taken in a lot of water and was blue.
"We'd called the coastguard and an air ambulance landed right in front of us at the beach. I don't think what happened has really sunk in yet."
While the teenagers and Mr Gray had been pulling the man to shore, a passing nurse, Sophie Ross, stopped to help.
The 27-year-old said: "I'd been walking my dogs when I heard cries for help.
"I helped to put him into the recovery position, then called back the coastguard to give them a medical update.
"He was slipping in and out of consciousness and I was worried about secondary drowning, which is when someone is rescued but still has water in their lungs.
"If that man had been in the water 40 or so seconds longer, he would have fallen unconscious.
"The girls were so brave and did a brilliant job – I don't know if I could have done that.
"They definitely saved two people's lives tonight."
Lifeboat crews were called at 5.30pm.
It is believed the man had been on holiday in Fraserburgh with his family, who had been at another part of the beach.
Proud mum Lisa Noble praised the efforts of her daughters, who attend Fraserburgh Academy.
She said: "I'd gone for a run at the beach while my husband cycled alongside.
"My husband answered his phone then told me 'you won't believe this, the girls just saved someone from drowning.'
"By the time we got back the man had regained consciousness – he got the girls to come over to thank them.
An RNLI spokesman said: " Isla and Elidh and Keith did brilliant.
"The girls, for being so young and springing into action and having the presence of mind to phone the coastguard and calmly give them the details of the incident, enabled the emergency services including ourselves  to respond so quickly.
"They all deserve medals."
A spokesman for the police, who were also in attendance to assist the RNLI, said: "A male got caught in the current and two members of the public helped bring him to
shore.
"He was conscious and breathing, but taken to Aberdeen Royal Infirmary as a precaution."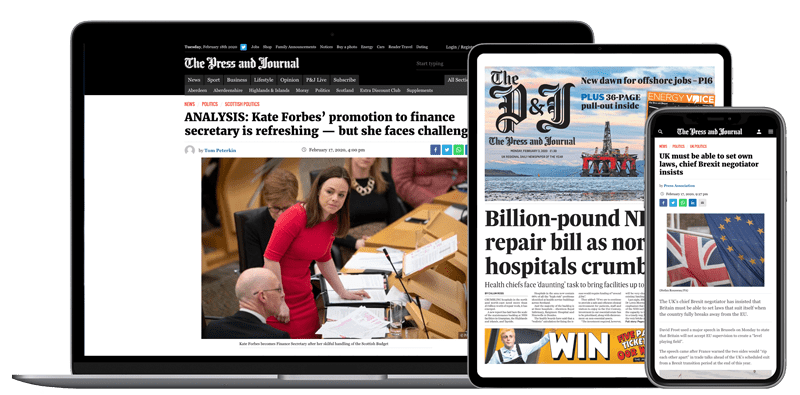 Help support quality local journalism … become a digital subscriber to The Press and Journal
For as little as £5.99 a month you can access all of our content, including Premium articles.
Subscribe