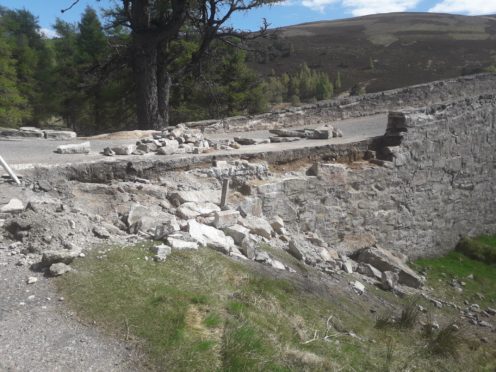 Plans to replace an 18th Century bridge beset by structural problems and crashes for years have finally taken a major step forward.
The hump-backed Gairnshiel Bridge, a key part of the A939 road between Ballater and Tomintoul, has been frequently closed in recent years.
Time and again drivers have ignored the 18-tonne weight limit, while other motorists have collided with its historic structure.
Whenever it is shut for repairs, locals and tourists alike are forced to deal with length diversions of up to 24 miles.
Last year, Aberdeenshire Council confirmed it would be building a new bridge to the east of the existing structure over the River Gairn in order to preserve the Gairnshiel Bridge – which remains a popular tourist attraction – for years to come.
And now a public contract has been issued by the local authority seeking structural design services for a new, 104-foot steel bridge to take drivers across the waterway.
Aboyne, Upper Deeside and Donside councillor Geva Blackett has long campaigned for a replacement crossing.
She welcomed the new contract being put out to tender and said she hopes it signifies work is now well underway on the replacement project.
Mrs Blackett said :"I am so pleased to see the new bridge proposal making steady progress and look forward to seeing the planning application coming forward in due course.
"This corner of the north-east of Scotland is proving to be a huge tourist draw and deserves the infrastructure to support our local economy and, of course, to protect the current bridge for everyone to admire, just not travel over."
It is understood the new bridge is scheduled to be open to motorists by 2021.
In the meantime, Aberdeenshire Council has put in place a number of safety measures to protect the existing Gairnshiel Bridge.
Earlier this year, new signs were erected on either side of the bridge warning drivers considering flouting the 18-tonne limit that they would be recorded on CCTV.
Drivers of heavy goods vehicles have also been advised to avoid following their sat-navs, which may still direct them to drive across the unsuitable structure.