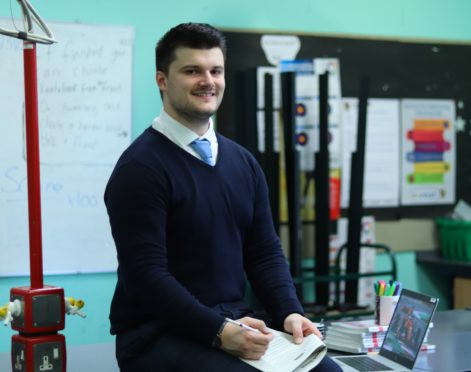 A north-east teacher has described his job as "one of the most important roles in the country"- after new research revealed how influential teachers are considered to be on their pupils.
A government study has found that two fifths of Scottish adults believe that, excluding family and friends, teachers have the greatest opportunity to inspire and shape young minds.
Only 21% of people reckoned that the social media phenomenons who have risen to popularity in recent years exert the greatest influence over children.
And only 7% of those said the same about celebrities.
Nearly two thirds said that, between the ages of one and five, teachers helped to positively influence or inspire them to become the person they are today.
But there have been well-publicised problems with attracting people into the role – especially in the north and north-east.
Some subjects, especially around science, technical studies and maths, can prove particularly hard to recruit for.
Newly qualified Inverurie Academy physics teacher Duncan Barclay, 25, cast aside his dreams of working in Formula One to pursue the profession.
He said:  "As the only full-time physics teacher in my school I am busy but I thrive on it and love the challenge.
"I'd definitely recommend that any young graduates who are considering a role in teaching should visit a school and observe some classes.
"Personally, I find that it's a job that is both stimulating and a whole lot of fun and that is something I hadn't expected.
"Being able to guide pupils towards their dreams is one of the most rewarding and important roles in the country.
"Being a new teacher, I can relate to their situations and offer up-to-date advice on how young people can progress in their learning and work towards a career in their desired fields."
Deputy First Minister John Swinney said people of all backgrounds can consider a future in the profession.
He said: "These findings show the important role that teachers continue to play in our society and the opportunity they have to make a real difference to future generations.
"In a culture where the influence of social media and celebrities can sometimes put a lot of pressure on young people, it's reassuring to see that the nation still recognises the long-term impact and influence teachers can have.
"I'd encourage all the undergraduates out there to consider getting into teaching."