'Remember you have a choice': Thousands of north-east pupils attend Safe Drive event
Almost a decade on from the horrific and "preventable" crash that claimed the life of her only son, an Aberdeenshire mother has spoken out to prevent other families going through the same trauma.
Mark Scott was just 19-years-old when he was killed on the A980 Alford to Banchory road.
He was the passenger in a car that, exceeding speeds of 80mph, lost control on a bend and crashed.
The car's driver subsequently admitted dangerous driving at Edinburgh High Court and was jailed for ten months.
Yesterday, his mother Dorothy-Anne Scott bravely revisited the incident – as she brought the 15th Safe Drive Stay Alive event to a close.
The stage show, which features talks from emergency service personnel and crash victims and families, was launched to reduce the number of deadly and serious accidents on north-east roads.
Speaking to hundreds of pupils, who had travelled from across Aberdeen, Aberdeenshire and Moray to attend, Mrs Scott said: "Remember right now, at this moment, you have a choice.
"The choice to drive carefully and to choose whose car you get into.
"We were all lost for a long time after what happened to Mark. Our lives were never the same .
"The only comfort I took came after the post-mortem, when I was told of the injuries he sustained and how it would have been very quick death."
Speaking after the event the 57-year-old added: "We didn't want what happened to Mark to be in vain.
"Even if one person can be saved then I will be happy. No family should have to go through what we did."
Chris Tucker, who was involved in a car accident near Dingwall in 2012 and sustained a brain injury as a result, also shared his experience.
The 28-year-old said: "It was tough learning to deal with the fact that I would never play football again as a result of the crash.
"So many young boys want to become footballers and live that dream. I hope my story helps them realise the effects of dangerous driving.
"I've been coming to the event for years and you do see many of the pupils cry or feel faint.
"It sounds harsh but that's what we want to happen. We want to hammer home the real seriousness of this.
"You have to choose to drive wisely."
Chairwoman of Aberdeenshire Council's communities committee, Anne Stirling, said: "The importance of the Safe Drive Stay Alive roadshow in our community cannot be underestimated."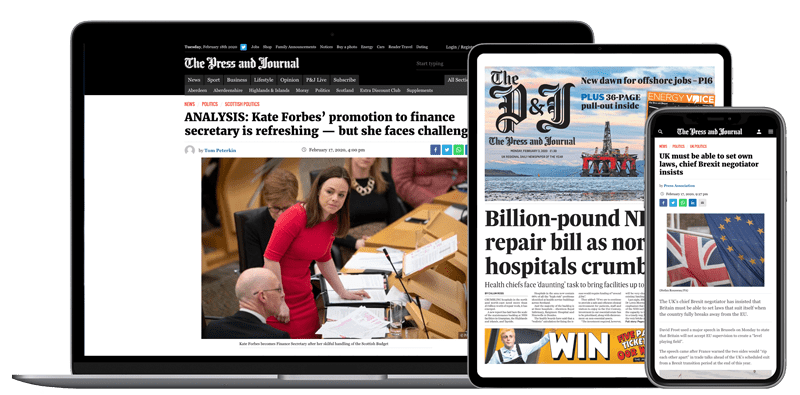 Help support quality local journalism … become a digital subscriber to The Press and Journal
For as little as £5.99 a month you can access all of our content, including Premium articles.
Subscribe