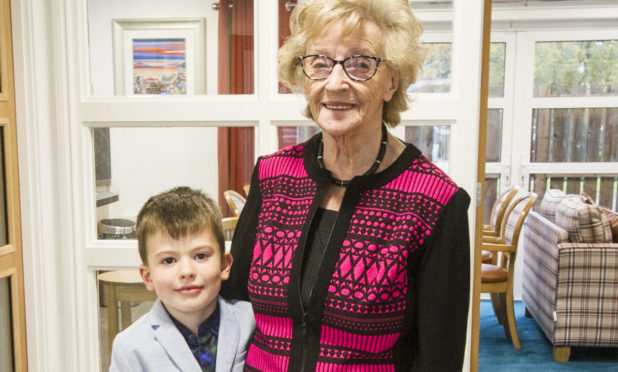 The heartwarming bond between an Aberdeenshire youngster and a 92-year-old former teacher proves that friendship truly knows no bounds.
Six-year-old Angus Johnson met Agnes Rae three years ago when Rothiemay and District Playgroup visited the Balhousie care home in Huntly, and the pair instantly became pals.
They initially struck up a bond simply due to the similarity of their names, and are now considered to be "thick as thieves".
Angus's mother, Debbie Johnson, said: "Angus started coming to Balhousie as part of the nursery's inter-generational visits.
"The fact that their names were similar caused them both some hilarity, and they're both very chatty, outgoing, happy people.
"They've been thick as thieves from day one."
Mrs Rae is a retired primary school teacher, who taught at Skene School near Westhill from the age of 22, and Angus's parents are both teachers.
The family pay regular visit the 92-year-old, and take her out for lunch or tea.
Mrs Johnson added: "We try and see Agnes every four to six weeks.
"I have to give credit to Rothiemay Playgroup and Balhousie for these inter-generational visits, which really do break down age barriers.
"If you ask Angus who is friends are, he rattles off Agnes among the list of names that include children his age.
"He doesn't see Agnes as an older person. Age really is no barrier for him."
The firm friends recently took centre stage at the opening a new care accommodation facility in Huntly.
They cut the ribbon on the new Milton Mews development – a low-dependency accommodation offering of 10 suites which opened next to the care home.
Nicola Sanderson, Home Manager at Balhousie, said: "Both Agnes and Angus have a special connection to the home so they were an obvious choice for the ribbon cutting of Milton Mews.
"We'd like to thank them, and everyone else who supported the opening, including Dean's of Huntly who provided a hamper of goodies as a prize."