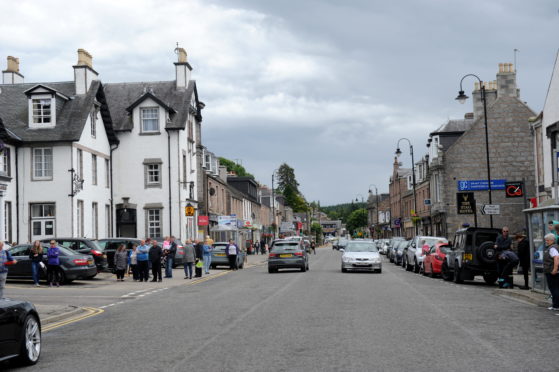 City residents are being encouraged to vary their shopping habits by venturing to Aberdeenshire towns and making a day of their visits.
Many traditional Scottish shopping areas, particularly in smaller towns, have been struggling as people increasingly turn to the internet to spend their money.
In the north-east, with the majority of shopping in Aberdeen reserved to Union Street, Union Square, the St Nicholas Centre and the Trinity Centre, calls have been made for consumers to consider leaving the city to enjoy a shopping "experience" in Aberdeenshire towns.
Shopping expert Gordon Bell works for consultancy firm the Retailer Group and is spearheading efforts to breathe new life into town centres in Banchory, Huntly and Stonehaven after being commissioned by the South Aberdeenshire Local Action Group.
He said: "There's more than hope just now for our town centres, I think there's key opportunity.
"The internet is a problem, but only actually accounts for 20% of retail sales. About 80% of sales still come through a shop front door.
"We've had cycles across the years – like the rise and fall of department stores, and the creation of town centre malls that drove business away from the high street.
"We're beginning another cycle, shoppers now care about experiences."
Through his work in the north-east, Mr Bell is hoping that independent retailers can work together to create an economy-boosting unified identity for the three towns, and draw people to enjoy a full day there.
He added: "Aberdeen is struggling, and we would be looking to encourage more people to travel from the city to visit these small towns for a shopping experience.
"The city  has the same problem as the towns – but it is harder to shift.
"A lot of councillors are vehemently against town centre regeneration, but they are misinformed.
"Town centres are not dead at all – we are miles ahead in Scotland, nowhere else in Scotland has the same energy."
Networking events are open to all local businesses within Banchory, Huntly and Stonehaven next week.
There will be one on Tuesday at 6pm in the Stonehaven Community Centre, one at The Hub in Banchory West Parish Church on Wednesday at 6pm and a final event in Huntly at the Linden Centre at 7pm on Thursday.
The picture across Scotland
Last year, a shopping centre in Kirkcaldy, which had 14 of its 21 shops vacant, was put up for sale for a reserve price of £1.
However, in larger cities, retail development is still thriving as Edinburgh's St James Centre, redeveloped at a cost of £1 billion, is expected to open later this year.
Last month, Greenock town centre was an area ranked highest for levels of deprivation in Scotland, with calls for the government to take action.
But in nearby Paisley, a high street cinema and European-style food hall are included under a radical new blueprint for the town centre.
City leaders hope the "reimagining" of the Renfrewshire town could attract investors and reverse the decline of the high street.
They want to bring vacant historic buildings into use, develop more town centre homes and improve public areas.
Meanwhile, in Aberdeen, the Press and Journal reported yesterday that the remnants of £1.3 million from the Holyrood-backed town centre fund will be spent to spruce up the city centre.
A new "living wall" feature will now be built on Flourmill Lane, while other money will be used to demolish buildings on Queen Street ahead of a massive multi-million-pound planned renovation of the area.
This will include the demolition of the MacKay's camping shop.