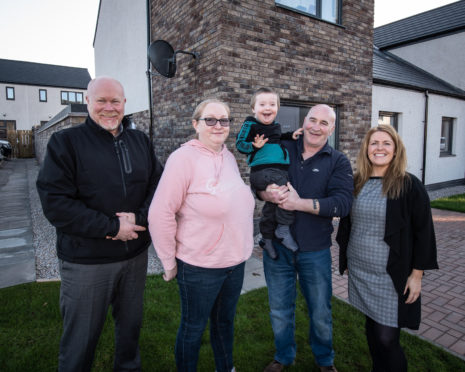 The parents of an Aberdeenshire boy with complex learning difficulties have praised a developer for kitting out their new home to match his needs.
Kevin and Patricia Logie are settling into their home in Stonehaven with daughter Jessica, 12 and sons Oliver, six, Reece, four, and one-year-old Harrison.
Before they moved in, Osprey Housing Care adapted the property to meet Reece's needs, as he needs 24-hour care.
The family had previously been living in a three-bedroom upstairs property in Kemnay, where the front and rear gardens were reached by steps and bounded by low fences.
Reece, who has Downs syndrome, has no depth perception and risked falling if he was let out onto the garden, and would often be "be crying at the windows."
He also had to share a room with his siblings, and his night waking and crying often disturbed the whole family.
Osprey worked with Reece's occupational therapist and social care team to adapt the family's new home which has a ground-floor bedroom for him. The garden has also been fitted with the right kind of boundary fencing, access is on the level, and the property is also sound-proofed.
Mrs Logie said: "The new house is making such a difference to us. Now we can feel safe because we've got the downstairs bedroom and wet room and we've got level access to the rear of the house."