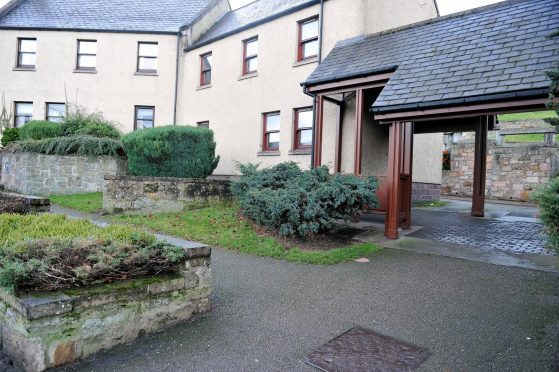 A Moray man has been charged with attempted murder following an alleged stabbing at a flat in the centre of Elgin.
Michael Ritchie, 45, was arrested following an incident at the town's Murdoch's Wynd.
A 45-year-old man is still being treated at Dr Gray's Hospital in Elgin for serious injuries.
Police said last night his condition was not believed to be life-threatening.
Ritchie, whose address was given only as Moray, appeared at Elgin Sheriff Court to face an attempted murder charge and made no plea.
He was remanded in custody after appearing in private on petition and is expected to return to court next week.
Police were called to a ground floor property in Murdoch's Wynd after reports of a disturbance.
The door of the flat where the alleged attack happened has since been boarded up since Saturday night's fracas.
Yesterday, stunned neighbours said the community had been left shaken by the incident.
One woman, who lives near the flat, said: "I was shocked when I heard about there being allegations of a stabbing, though I don't personally know the men involved.
"I just hope that the man who has been injured is able to recover."
Another resident said: "I don't think the man who has been arrested has lived here for a long time."
She added: "He kept himself to himself, and has been a fairly quiet neighbour as far as I know."
Detective Inspector Norman Stevenson last night tried to reassure worried locals that the incident posed "no threat to the wider public".
He said: "I would like to thank the public for their patience while officers attended at the scene.
"I would also like to take this opportunity to stress that this was a contained and isolated incident, and at no point was there any threat to the wider public."
Elgin City South councillor John Divers said that reports of knife crime in the town were a "cause for concern".
He said: "This is something that will worry residents in that street, especially as there are a number of older people in that area.
"Obviously, we are not yet aware of the exact issues surrounding this incident, but I'm sure the police will establish all the facts."
However, Councillor Divers, who serves on the authority's police and fire and rescue services committee, stressed that Moray remained a safe place to live.
He added: "Though we do have incidents in the area, this is still a relatively quiet place to live compared with other parts of the country.
"There is often such shock at alleged crimes like this because they are so rare here."