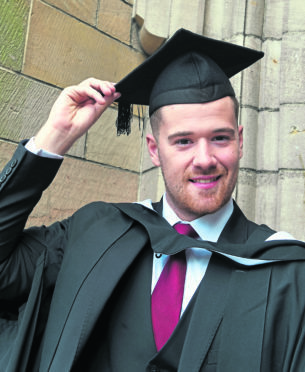 James Murray moved to Aberdeen to study from his home in the village of Dores near Inverness.
The village on the banks of Loch Ness has a population of just several hundred people.
But the 22-year-old was not phased by the way of city life because he had already spent time living in England, Ireland and Germany.
He said: "Aberdeen University offered me a great politics and international relations course which is why I picked it. My brother was also already a student there, and he encouraged me to accept the offer."
The student credits the new friendships he has made during his studies as the highlight of his four years at university.
"I'll leave with great memories," he said.
Although he admitted he was not so keen on working on his dissertation.
He said: "My dissertation was a massive challenge during university.
"That, coupled with a few personal problems along the way made things tough, but I made it."
He was joined by his parents as he graduated yesterday morning at Elphinstone Hall.
Mr Murray, who was awarded a 2:1 MA in politics and international relations, now plans to spend summer relaxing back in the Highlands.