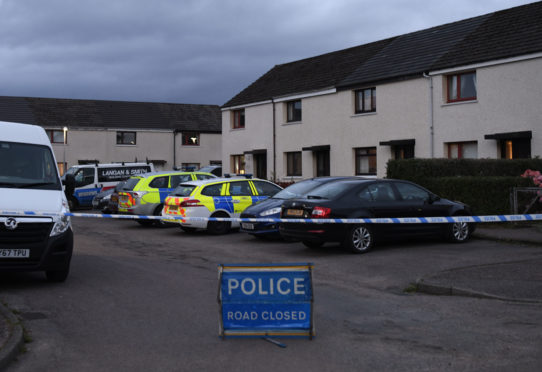 Residents on a street in a Highland village were evacuated after explosives' experts were called to deal with a wartime bomb taken home by a fisherman.
The angler caught the device after a day out at Loch Askaig at Spean Bridge.
Police were called to the street in Caol, near Fort William, just before 8pm on Sunday evening – and immediately called in the Royal Navy's Explosive Ordnance Disposal unit.
Police officers advised people in houses on the odd-numbered side of Banavie Road to leave their  homes, although many chose not to do so.
One resident, Barbara Finlay, wrote on social media: "Well that was an unexpected night we had.
"Least I can say I have now seen a World War II mortar bomb.
"What I didn't count on was my neighbour taking it into my house not knowing what it was."
She joked: "I love my neighbours."
A police spokesman said: "Police Scotland was made aware of an item of  suspected unexploded ordnance within the garden of a property in Banavie Road in Caol.
"The item – which was historic – had been returned to the property without having been identified as possible ordnance, having been found in a rural area earlier in the day.
"The item was removed to a safe location later that evening and was destroyed by Royal Navy Explosive Ordnance Disposal shortly before 8.30am on Monday.
"A small number of properties on Banavie Road were evacuated as a precaution during Sunday evening and local residents are thanked for their understanding."
Unexploded ordnance devices are weapons that did not detonate when they were deployed and still may pose a risk, some times many decades after they were used or discarded.
The device does not always originate from wars. Areas such as military training grounds can also hold significant numbers, even after the area has been abandoned.
Loch Askaig, where the device was found, and the area around Spean Bridge, was the training ground for an elite training force in World War II – the Commandos.