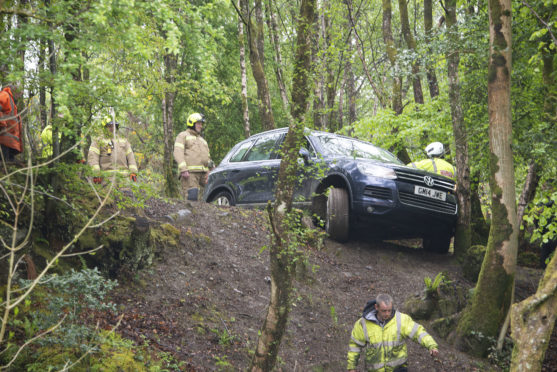 A car had to be recovered yesterday after it became stuck in woodland in a Highland town.
It is understood the driver had attempted to drive the Volkswagen 4×4 down a narrow and steep forestry footpath near Fort William.
Police, fire crews and a local vehicle recovery service were called to assist at around 10.34am on Tuesday at Belford Road, near the Forestry Commission footpath at Cow Hill.
The vehicle's front wheels could be seen dangling above a 15 foot drop.
Two fire crews were sent to the scene to make the vehicle safe and police officers remained until the 4×4 was recovered.
The ambulance service treated one casualty at the path. Their injuries are not understood to have been serious.
Inquiries continue to establish the full circumstances surrounding the incident.
Anyone with information or who may have seen the vehicle prior to the accident can call police on 101.