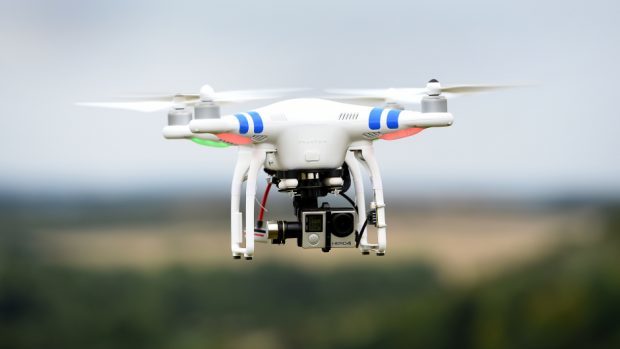 The Civil Aviation Authority has warned drone owners to fly responsibly after a pilot reported a remote craft coming too close to him over Orkney.
The move comes as the UK witnessed a 15 fold increase in such incidents over the last four years.
According to the agency tasked with improving air safety, the UK Airprox Board, the incident happened last December.
The report was filed by the pilot who encountered what "appeared to look like a large drone" at around 400 feet, two miles from the airport.
The BN2 freight plane was already turning away from the drone so no "avoiding action" was required and air traffic control was informed.
The UK Airprox Board said: "The drone was being flown in the vicinity of an airfield departure path such that it was endangering other aircraft at that location and altitude.
"The Board agreed that the incident was therefore best described as the drone was flown into conflict with the BN2."
The number of cases has gone up precipitously since 2014 when there was six cases, the next year there were 29, and in 2016 there were 71.
A new peak was reach reached last year with 92 cases in all while there were five cases in 2018 so far.
A  Civil Aviation Authority spokesperson said: "Anyone operating a drone must do so responsibly and observe all relevant rules and regulations.
"The rules for flying drones are designed to keep all airspace users safe. It is totally unacceptable to fly drones close to airports and anyone flouting the rules can face severe penalties including imprisonment.
"The CAA's 'dronecode' provides advice on how to fly your drone safely and follow the rules at all times.
"Drone users have to understand that when taking to the skies they are potentially flying close to one of the busiest areas of airspace in the world – a complex system that brings together all manner of aircraft including passenger aeroplanes, military jets, helicopters, gliders and light aircraft."
HIAL has published advice on its website for those planning to fly a drone near its airports. HIAL asks that drone operators inform the airport if they intend to fly in the vicinity. People can also contact the airport if they observe and have immediate concerns about drone activity.
A HIAL spokesperson said: "There was a low chance of collision at Kirkwall but the increasing numbers of drones being flown in the proximity of airports is an issue that is of concern to regulators, the aviation industry and the general public. Safety must be the top priority at all times and we fully support measures to tighten regulations regarding the use of UAVs around airports."