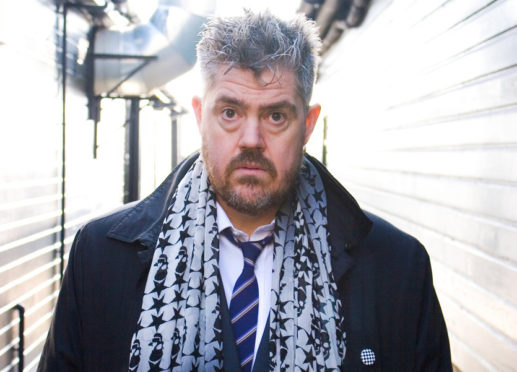 Susan Welsh saw Phill Jupitus at Eden Court Theatre, Inverness.
Although he's been making people laugh for 35 years, and is an Eden Court regular, it wasn't until Monday night that Phill Jupitus made his Inverness debut.
His previous visits here had been to see friends perform at the theatre, or catch a flight to the islands.
And while this was his first show here, it was also possibly his last…
Because, as revealed in the P&J a few weeks ago, the stand-up comedian is giving up the laughter game as he's going to study art for the next four years at the University of Dundee.
The art world's gain, comedy's loss – for this is a man at the top of his game when it comes to making stand-up look effortless.
As the audience filed into the theatre, Phil was already on stage, quietly sitting with his back to them –a build up to the first laugh of the night, as he asked people to welcome him on to a stage he was already on.
The first half of the show largely focused on the build up to and his experience of receiving an honorary doctorate from the University of Kent two years ago and how he felt about having to explain to hundreds of graduates that his question, "When do I get the prescription pad?" was a joke.
During the interval, Phil didn't disappear backstage but came into the auditorium to chat with the audience as he likes to know a little more about who is buying tickets to see him perform.
The second half of the show saw him hit full stride, and it was wonderful.
Now living in Fife and considering himself to be an adopted Scot, he delivered an hour-long show that covered everything from how bouncy the Infirmary footbridge in Inverness is to the legendary Beatles gig at Strathpeffer and the delights of finding Walker's shortbread fingers in Scottish hotel rooms.
But it was his whimsical story about a former Mexican drug smuggler running a B&B in Ullapool that brought the house down and demonstrated what an excellent mimic he is too.
Phill Jupitus: Sassy Knack tour visits the Town Hall, Stromness on Tuesday, May 28 and The Barn, Banchory on Thursday, May 30.