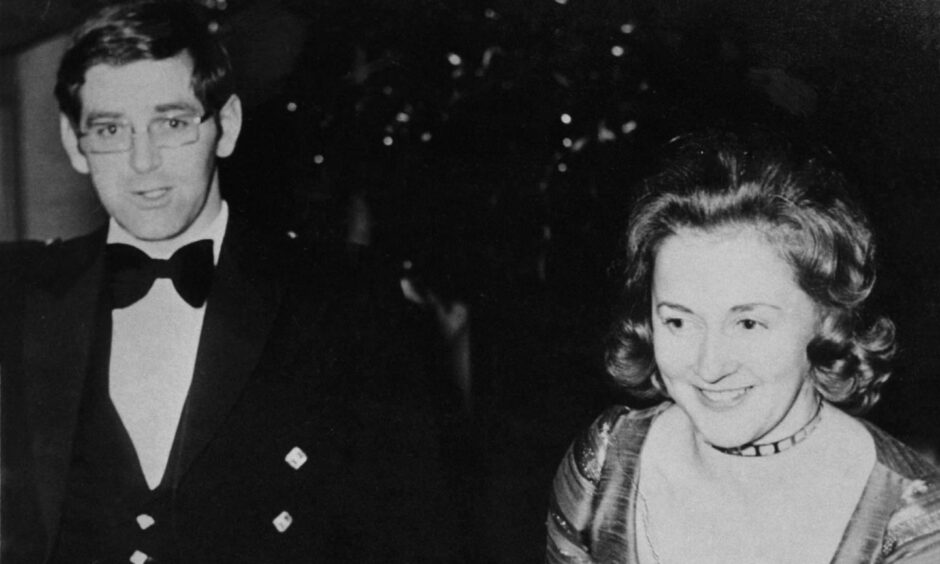 There was no reason to suspect there was anything strange about Renee MacRae's weekend getaway.
After visiting her estranged husband Gordon's Inverness office, she strapped her youngest son Andrew into his seat in her blue BMW and set off down the A9.
That was at 5pm on November 12 1976.
Neither Renee nor three-year-old Andrew have been seen since.
Renee had told Gordon that she was bound for Kilmarnock to visit her sister Morag.
She lied.
Renee had been in a secret relationship with Gordon's chief accountant, Bill MacDowell, for nearly five years.
She was going to Perthshire to see him.
A mysterious fire
At around 10pm, Renee's car was discovered engulfed in flames at the side of the A9 in Dalmagarry, 12 miles south of Inverness.
Bus driver Malcolm Vaughan was on his way home to Boat of Garten on the night Renee and Andrew vanished.
He spotted flames shooting up an embankment and pulled over to investigate.
He told the Press and Journal: "I drove up as the flames reached inside. It appeared completely bare."
There had been several earlier sightings of 36-year-old Renee's car.
Another driver whose child went to the same school as Renee's son saw her driving along the A9 around 6pm.
A little further down the road, the car was spotted parked at the Meall Mór layby.
Over the next few hours, the blue BMW was spotted by a number of drivers.
It appeared empty and the lights were switched off.
The car was a further six miles down the road when Malcolm Vaughan alerted the fire brigade.
But by that time, Renee and Andrew had vanished into the night.
Renee Macrae's secret affair
Despite, the fact that her car had been set on fire and no trace of her had been found, Renee's best friend Val Steventon was not yet concerned she had come to any harm.
Val speculated that she had instead caught a train to Perth. Vandals were probably responsible for the damage to the BMW.
But alarm bells started ringing when Renee failed to pick up her eldest son, Gordon junior, from school on Monday.
Gordon senior phoned Renee's sister Morag to find out where she was. When she told him she had no idea, he phoned the police.
A large-scale police search was launched and aspects of the mystery began to trickle into the public domain.
When police visited Renee's home in Cradlehall Park, they found her belongings packed in boxes.
She was definitely planning a trip.
That was no surprise to Val, who was the only person who knew about Renee and Bill's affair.
She also knew that Bill, not Gordon, was Andrew's real father.
Val was forced to reveal to police that the pair had arranged to spend a few days together in Perth.
She claimed that they were planning to tell Bill's wife Rosemary about their affair before leaving to start a new life together in Shetland.
Renee's early life
Christina Catherine MacDonald was born at Inverness's Raigmore Hospital on February 10, 1940.
Known to her friends as Renee, she grew up on a council estate in Beauly and was top of her class in school.
While working as a shop assistant at Boots in Inverness, she met Gordon MacRae.
They married on May 17 1963 when Renee was just 23.
Their first son, Gordon junior, was born in 1968 and their second, Andrew, followed in 1973.
The pair separated in July 1976 and Renee moved with her sons to 4 Cradlehall Park, on the outskirts of Inverness.
Gordon and Renee were headed for divorce at the time of her disappearance but had remained on good terms.
Both had found new partners but the identity of Renee's was kept a secret.
As details emerged of her involvement with Bill, it soon became clear why.
The two faces of Renee MacRae?
As searches for Renee and Andrew ramped up, interest in the case was growing extremely intense.
There was an image of Renee MacRae that was being painted in the media – and in the street – that her nearest and dearest did not believe was accurate.
The wife of a rich and successful businessman, she was portrayed as a "scarlet woman" at times.
Was Renee a member of an exclusive jet-set? Or was she a shy, introverted, devoted mother who led a rather humdrum existence?
One comment from a senior police officer in the early searches of the cases referred to a "web of deceit", setting the rumour mill alight.
But the truth was that she was from an ordinary background, had married a wealthy man, and found herself in an unhappy marriage.
'Renee was not a fast-living woman'
Her sister, friends, and even her estranged husband Gordon fiercely defended her reputation.
Those opinions could be explained by loyalty, but most officers involved in the case tended to agree and they had no axe to grind.
Chief constable Donald Henderson said: "She was not a fast-living, high-stepping woman.
"Basically, she was an unhappy woman. In company, she tended to withdraw."
Chief inspector Donald MacArthur, who was leading the inquiry in the 1970s, agreed.
He said that although Renee was "a very pretty girl who would catch a man's eye right away" there was only one man in her life.
That man was Bill MacDowell.
MacArthur added: "She was top of her class in school. She was a home bird, she didn't like going out and leaving the kids.
"She was a very tidy housewife. Everything was where it should be, cleaned and put away."
Alice Dickie, who knew the MacRaes when they lived in Beauly, also poured scorn on the rumour-mongers.
She said: "In no way was Renee the scarlet woman she was made out to be.
"If anything, she was too trusting."
The secret code
When Gordon MacRae found out about MacDowell's deceit, he sacked him on the spot.
MacDowell was interviewed by police and he told them he hadn't made firm arrangements to spend the weekend with Renee.
He also denied he had any plans to start a new life with her in Shetland.
The press was desperate to find out the identity of Renee's secret lover.
When it was revealed as MacDowell, reporters raced to his home in Nairnside.
Standing next to his distraught wife Rosemary, he swore that his affair with Renee was over.
He also claimed he and Renee had a system of coded phone calls where they would call each other, let it ring twice, and then hang up.
The other person would then call back if they were free to do so. MacDowell claimed in the days since their disappearance, he had received a number of these coded phone calls.
He said this indicated to him that Renee and Andrew were still very much alive and did not wish to be found.
But when quizzed by reporters about this intel, he said: "It had slipped his mind".
Events became increasingly dramatic after it emerged that MacDowell had gone to police on December 20 1976 to give them "significant" information.
But his wife Rosemary spotted his car outside police HQ and removed him from the building before he could complete his statement.
The initial search
A special squad was formed to handle the case, pairing two experienced Inverness officers with two members of the Scottish Crime Squad.
Led by chief inspector Donald MacArthur, they carried out a massive search of moorland and Dalmagarry Quarry, close to where Renee's car was found.
With no witnesses, however, the trail soon began to turn cold.
By the summer of 1977, police had started to believe that the clue to Renee and Andrew's whereabouts lay in one of the flooded quarries close to the A9.
Their particular focus was on Leanach Quarry, close to Culloden Battlefield.
A thorough search of the quarry would be expensive and hazardous, so a camera was used to probe the murky depths.
To the shock of watching journalists, what appeared to be a skeletal face appeared in one of the images taken.
Navy divers were sent down to investigate but, to the disappointment of the search team, the face on the camera turned out to be a crumpled plastic bag of rubbish.
Visibility was so poor in the quarry that further searching was virtually impossible and further investigation of the quarry was suspended.
As the years continued to roll by, more theories emerged.
A fresh appeal for witnesses was made in 2004, prompting a cold case review that saw two new people come forward.
35,000 tonnes of evidence
The new information prompted the excavation of Dalmagarry Quarry.
Police said at the time they had "substantially enhanced" the evidence they had.
Retired police detective John Cathcart also repeated his claim that he had smelled "rotting flesh" while a search around the quarry was carried out in 1977.
To his dismay, a proper search of the location was never carried out because of a dispute involving the hiring of a digger.
Nearly 30 years on, forensic archaeologists searched 35,000 tonnes of soil at the quarry. They found no trace of Renee or Andrew.
The publicity surrounding the search did prompt Bill MacDowell to come out of the woodwork though.
Now living in London, he said the case was a nightmare and still followed him and his wife Rosemary around.
He maintained his innocence.
Returning to Leanach Quarry
The 40th anniversary of the disappearance in 2016 prompted another fresh appeal for answers.
In 2017, it emerged that a suspect had fled to the US the day after being questioned by police during the original inquiry.
Police returned to Leanach Quarry in October 2018 and released a picture of Andrew's missing Silver Cross pushchair, on what would have been his 45th birthday.
This time though, it seemed that they were on to something.
The quarry was drained during the summer of 2019 and around the same time, detectives flew to Spain to interview someone they described as a "key witness".
Retired civil engineer John Bissett gave evidence from Spain during the trial, although it is not known if that was as a witness.
He saw a car on the Shenachie road bordering the A9 – he said he thought it was poachers at the time.
Bones and parts of a pushchair were then found during the search of the quarry and in September 2019, officers arrested then 77-year-old Bill MacDowell in connection with the case.
Back in the 1990s, former Northern Constabulary chief constable Donald Henderson remarked that he believed Leanach Quarry held the key to solving the case.
Asked why it was never searched properly at the time, he replied candidly: "I ran out of money."
Renee and Andrew MacRae's family finally have some answers
After a 46-year wait for answers, it seems incredible to think that we have finally have some.
Nearly half a century after Renee and her three-year-old son Andrew vanished without a trace, Bill MacDowell has been convicted of both of their murders.
The police have earned an almighty pat on the back for their determination to solve this case.
Their attention will now turn to squeezing more information from MacDowell before he dies. In particular, the whereabouts of Renee and Andrew's bodies will be the key focus.
The case itself is written through Inverness like a stick of rock.
Ask any long-serving resident of the city and they're bound to have subscribed to one theory or another.
Family and friends of Renee and Andrew have waited for more than 16,000 days for closure.
They finally have it.