New development emerges over the movement of vehicles in Renee MacRae case
A new development regarding the movement of vehicles at the time Renee MacRae and her son Andrew disappeared has emerged.
Fresh interviews with old and new witnesses reinforced Police Scotland's belief that the Leanach Quarry at Culloden Moor could hold the key to unlocking the 43-year-old mystery of the disappearance of the mother and son, both believed to have been murdered.
The man in charge of the cold case investigation into the disappearance, Detective Inspector Brian Geddes, would not reveal exactly what information had come to light or specify which vehicles were spoken about.
But it is suspected one car was Renee's blue BMW and possibly also the killer's.
The development comes as pumping began yesterday to remove 13 million litres of water from the quarry which lies between Daviot and Balloch, and is just a few miles from where the BMW was found ablaze at Dalmagarry on November 12, 1976.
DI Geddes revealed that detectives had travelled to Spain last week to interview a key witness who was able to tell police of suspicious movement of a vehicle near a lay-by on the A9 that night.
Another motorist was also able to tell detectives of seeing a similar car spoken to by other witnesses on the old A9 but at a different location.
DI Geddes said: "There were 1,500 witnesses named in the case dossier. We have prioritised them and there is a total of about 350 we intend to re-interview.
"We have begun talking to them, taking new statements and going over old ones and this exercise is producing new information all the time.
"We are encouraged by these early successes and makes us even more determined to finish the job of emptying and searching the quarry and hopefully find the evidence – preferably the remains of Renee and Andrew – which will bring someone to court."
He added: "Pumping has started and the water will be sprayed into a nearby field. How long it takes will depend on the capacity of the field to take so much water.
"We are expecting around a week, but it could be more, it could be less."
---
Local and Proud: Follow our new Facebook page dedicated to the Highlands and Islands
---
A team of 16 officers will be working daily. Forensic anthropologists are also on stand-by to move in when removal of the silt and searching of the contents of the quarry begins hopefully by next week.
The entire operation – the first of its kind and scale in a UK police inquiry – is expected to take several weeks.
Timeline of events
November 12, 1976, 5pm – Last sighting of Mrs MacRae, 36, and her son Andrew, three, as they depart the MacRae and Sons office in Inverness
7pm – A passing motorist spots Mrs MacRae's BMW at the Meallmore Hotel on the A9
10pm – Bus driver Malcolm Vaughan discovers Mrs MacRae's BMW ablaze in a layby near Dalmagarry. Bloodstain found in the boot of the car
November 15, 1976 – Mrs MacRae and her son Andrew are officially declared missing
November 18, 1976 – Bill McDowell, the accountant of Mrs MacRae's estranged husband Gordon, admits to being Mrs MacRae's secret lover. He is subsequently fired by Mr MacRae
1977 – Naval divers search Leanach Quarry on Culloden Moor and film what appears to be a head wrapped in a supermarket carrier bag. A sketch is released to the press before the quarry is eliminated from the inquiry by police
1998 – A bank card bearing the name R MacRae is unearthed by a digger working on a house in Inverness near to where Mrs MacRae's husband Gordon used to stay. Bank card is traced to another Mrs R MacRae of Inverness, cooling police inquiries
2000 – Bones discovered in woodland near Bonar Bridge in Sutherland. Police rule out any connection
2004 – Excavation of Dalmagarry Quarry is carried out
2006 – Report naming a suspect is sent to prosecutors but no proceedings entered due to insufficient evidence
2006 – A radar survey beneath the northbound carriageway of the A9
November 2016 – Officers confirm they will work with contractors of the A9 dualling project to identify anomaly
Jan 2017 – Police reveal numerous calls were received following an appeal launched in October 2016
October 2018 – Police return to Leanach Quarry and launch appeal to trace the Silver Cross pram used by Andrew which was never recovered
October 2018 – Renee's husband Gordon Macrae declared bankrupt after a fellow Ross County FC director took him to court over an alleged £411,000 debt
November 2018 – Police launch anniversary appeal and receive more than 20 calls in a month
November 2018 – Press and Journal reveals a missing brown suitcase is being treated as a "significant" piece of evidence.
May 2019 – Police reveal they are to drain Leanach Quarry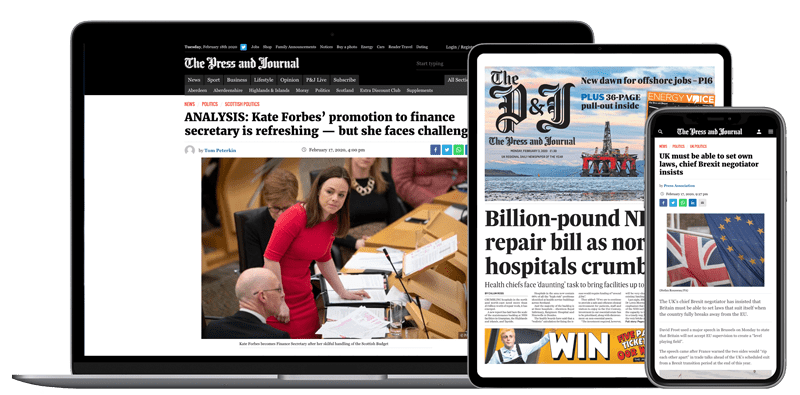 Help support quality local journalism … become a digital subscriber to The Press and Journal
For as little as £5.99 a month you can access all of our content, including Premium articles.
Subscribe