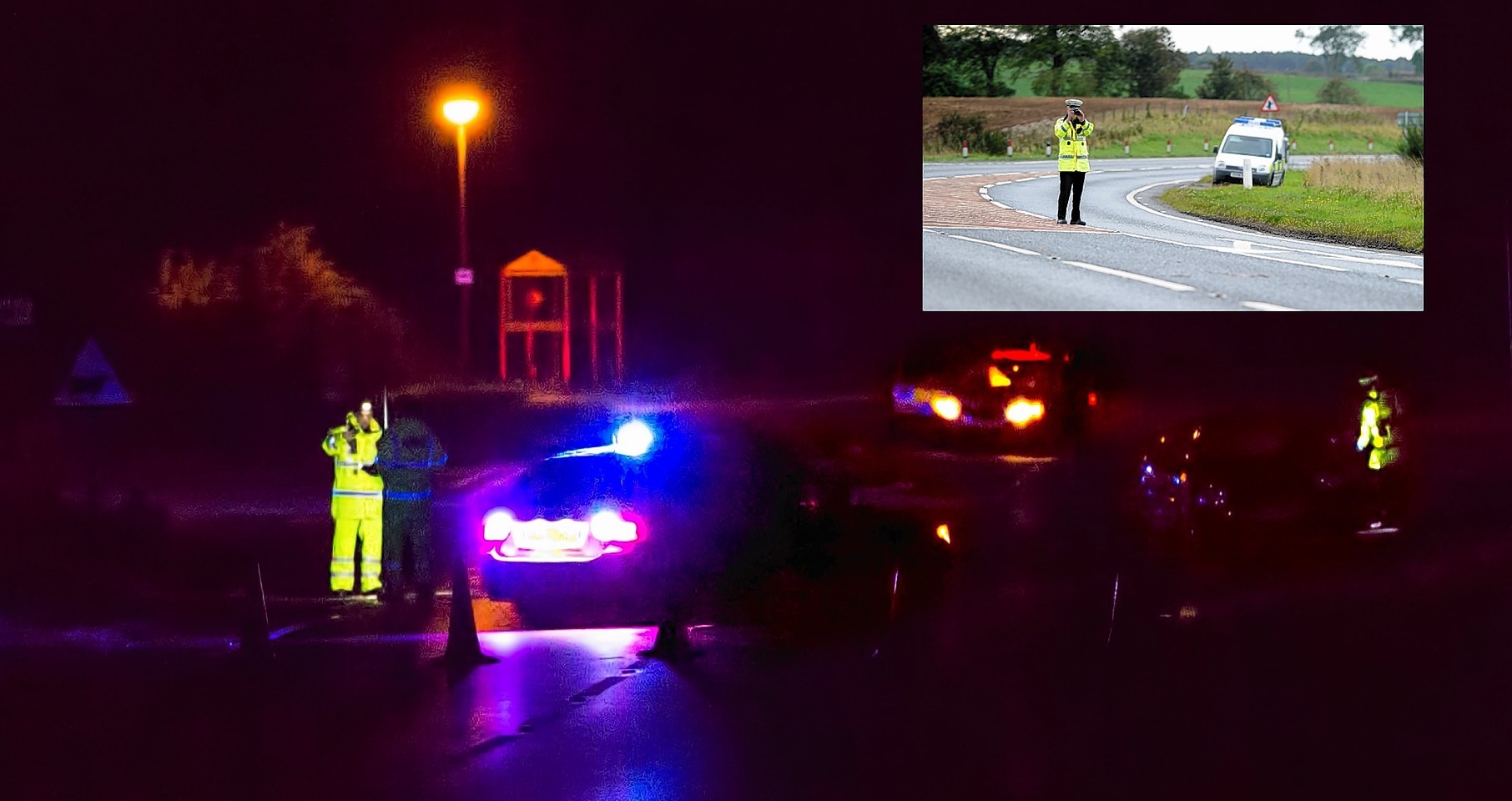 A pensioner died after being hit by two cars as she walked along the busy A96.
It is though the woman was trying to cross the main Inverness-Nairn road when the accident happened.
She had not been named by police last night but she is understood to have been in her 80s and from Forres.
Officers were still trying to establish why she was on foot 25 miles from home and appealed to anyone who saw her walking in the area to get in touch.
Police closed the road after motorists raised the alarm and traffic was diverted via Inverness Airport and Castle Stuart.
Motorists raised the alarm, just before 8.30pm on Tuesday, and police immediately closed the road, and A96 traffic was diverted via Inverness Airport, and Castle Stuart.
Accident investigators worked at the scene – near Petty Church at Tornagrain – for several hours and the road reopened around 3am yesterday.
Residents in the small community which overlooks the scene were shocked yesterday to hear the woman had died.
One said she watched police searching the grass verge beside the roadside using powerful torches.
She added: "That is so sad, especially someone at that age."
Another neighbour said he feared the worst when he saw so many blue lights flashing just before 10pm, and noticed they were still there when he looked out after 11pm.
Councillor Roddy Balfour, who represents Culloden and Ardersier, said: "It is always sad to hear when this sort of thing happens, but it shows the dangers of the A96, and having to cross such a busy road.
"It is a sad loss if it is someone in the community, but the sadness is even greater if they were visiting someone in the community."
Officers returned to the scene yesterday, with one traffic policeman arriving at 4pm to photograph the location.
A police spokeswoman said: "At 8.26pm on Tuesday we received a report of a serious road traffic collision on the A96 near Tornagrain, involving two cars and a pedestrian.
"Sadly, as a result of her injuries, the pedestrian died at the scene.
"We are appealing for information from anyone who was in the area at the time of the collision, or who may have seen an elderly woman walking in the area."
It is believed that yesterday's inquiries included an attempt to piece-together the woman's movements in the minutes before the accident.
There are two bus stops nearby – one on either side of the A96 – but there was no indication that she had left, or boarded a bus.
Meanwhile, police were yesterday still investigating a one-car crash which left five people injured.
A blue Honda Civic left the B9152 Aviemore-Kingussie road, near Dalraddy campsite, around 8pm On Tuesday.
Fire crews were sent to the scene, but the occupants of the car managed to managed to clamber out of the vehicle.
All five were taken to Raigmore Hospital in Inverness – two with head injuries, another two with back injuries and one with cuts and scratches.
And at lunchtime yesterday a woman in her 80s was taken to Raigmore Hospital after a car and Land Rover crashed just south of Dores at Torness.
She was not seriously injured in the collision, which happened on the B862 Inverness-Fort Augustus road at 12.25pm.
The A85 Oban-Perth trunk road was also closed for a short time yesterday after a collision involving a car and a motorbike between Taynuilt and Loch Awe in Argyll just after midday.
One man was taken by ambulance to Oban's Lorn and Islands Hospital. His injuries were not serious.
Police have urged anyone with information on Tuesday's fatal accident to contact them on 101.