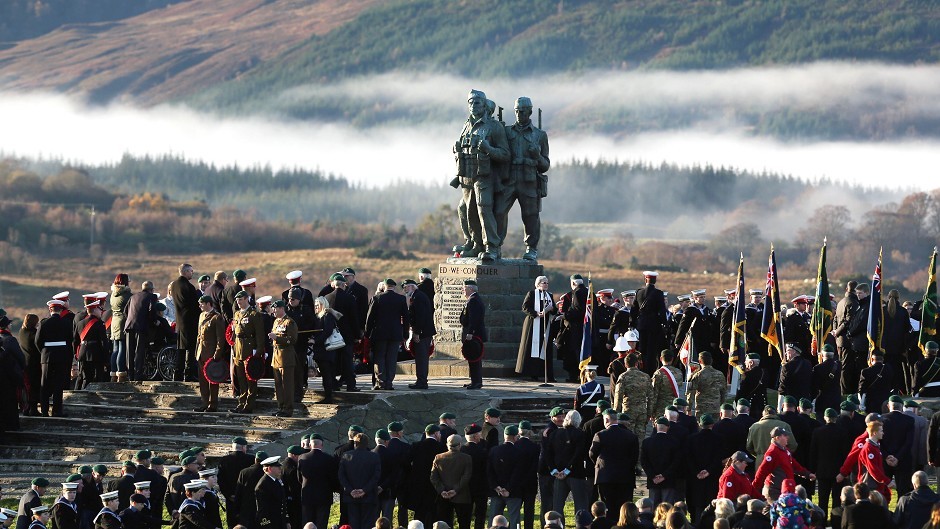 It is the spiritual and historic home of Britain's toughest servicemen, the training ground that spawned series of fearsome units specifically created to beat Hitler and his Nazis.
Achnacarry House in Lochaber is world-renowned as the Commando training centre that did its job when Winston Churchill needed it.
And now, the Highland estate is to be the venue for the first-ever Commando Games as 21st century civilians try their hand at  the Yomps, mud runs and death slides undertaken by the best.
In what is believed to be a world first, military charity Commando Spirit has revealed plans to rebuild Achnacarry's feared assault course for the September event.
In past years, brave – or perhaps slightly unsuspecting – athletes have been able to take part in a 30-mile trek called Survive The Yomp or a nine-mile speed march – which seems challenge enough.
But this year, civilians will be able to tackle the Commando Endurance Course which will include natural obstacles, mud runs, tunnels and crawls; or the Commando Assault Course which will feature rope bridges, obstacles and the infamous death slide.
Sally-Anne Hunter, Commando Spirit Series Founder and Director, said: "Our Commando Endurance and Assault Courses are being constructed to accurately replicate the unique historic architectural design and innovative content of the original training courses that service men completed during World War II to become Commandos and earn the right to wear the coveted green beret. This is an exciting opportunity for individuals to be the first to complete these authentic courses since they were last undertaken in the 1940s.
"Commando Spirit is all about showing you have the courage, grit and determination to put yourself through true to life Commando training whilst raising vital funds in the process. We passionately believe people have more in them than they appreciate and we encourage people and teams to step up to take part in the unique and iconic Commando Games and encourage as many people as possible to come and watch and have fun experiencing the spectator programme."
As World War Two raged into its second year, Prime Minister Winston Churchill knew he would need something special to best Hitler – and the British Commandos were born. Churchill wanted a team of highly-trained men who could carry out raids against German-occupied Europe.
By 1942, the Commandos were well-established and looking for a home that would afford the remoteness and tough landscape needed to make the men ready for anything mainland Europe could throw at them.
Achnacarry Castle, with its long association with Clan Cameron of Lochiel, was that place. It gained a place in history as the Commando Training Depot for the Allied Forces from 1942 to 1945. British Commandos, United States Army Rangers and commandos from France, the Netherlands, Norway, Czechoslovakia, Poland and Belgium trained there. As live ammunition was used during training, there were some casualties whilst training at Achnacarry.
The current Cameron of Lochiel said: "I am absolutely delighted that Commando Spirit is bringing their inspiring new Commando Games to Achnacarry Estate in 2016. Since 2013, this highly professional team has organised the iconic 30 mile Survive The Yomp at Achnacarry Estate, supporting the growth of our local economy and raising awareness of the uniquely rich Commando heritage of the area.
"I look forward to seeing them build on this success and to welcoming the many brave participants as they prove their mettle at these tough but rewarding Commando Games."
With a preview of the Assault Course and Endurance Course on 18 June, the World's first Commando Games takes place in Achnacarry over 10 and 11 September.
The Commando Spirit challenges and Commando Games are part of a year-long programme of events through which participants can test their mettle on training exercises normally only experienced by members of the services training to be Commandos.
To sign up to one or more of the Commando Spirit challenge events visit http://www.commandospirit.eventbrite.co.uk
Who are the Commandos?
Crated in 1940 at the behest of Winston Churchill, the task of the Commandos was to land in Nazi-occupied Western Europe, usually at night, destroy vital targets and leave as quickly as possible.
In June 1940, Churchill called for 20,000 men he called "leopards" ready to spring at the throats of the Germans.
Recruits were drawn from the British Army, the Royal Marines and even Briatin's police forces.
Lieutenant-Colonel Dudley Clark of the Royal Artillery suggested the name 'commando' for the new force – after the term used in the Second Boer War. Churchill liked the title, but senior military figures did not; they preferred the title 'Special Service' and the two were used alongside one another.
To start with, each commando unit was to consist of fifty men and three officers. In 1941, this changed to sixty-five men per commando unit. Eventually, commandos from the Army and the Royal Marines were combined into four brigades.
Those who got through the training received extra pay and the kudos of wearing the commando badge on their uniform. At the end of training each commando was skilled in beach assaults, cliff assaults, signalling, close quarter fighting, outdoor survival and demolition.
In 1942, the specific commando training base was established at Achnacarry Castle. Training was undertaken her for a number of reasons – the primary one being that the training centres were so remote that they attracted few observers and anyone in the vicinity of one of the training centres would quickly be recognised. Our predictably terrible weather was also perfect for what the commandos had to train for.
The first official commando raid was in June 1940 on the northern French coast.  Commandos were also in action in other parts of France, Norway, the Middle East and Italy.
They played a significant part in D-Day and their success led to Hitler bringing in his 'Kommadobefehl' – the Commando Order.