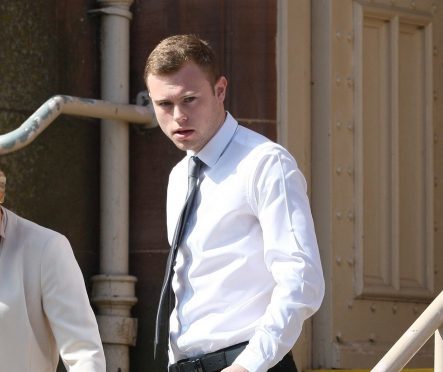 The mother of a teenage girl who was slipped an ecstasy tablet by a Highland League footballer has called on the player to be jailed.
The mum said Stefan MacRitchie should be locked up after slipping the 14-year-old the Class A drug as they kissed at a New Year party.
She told the Daily Record: "My daughter was throwing herself off the bed, banging her head off it, crawling on the floor.
"It was like something out of the horror movie The Exorcist. She was black and blue.
"We were holding her, trying to keep her safe, but she was hallucinating, thinking things were coming out of the walls to get her.
"I was trying to comfort her but she was lashing out, although every now and then she'd come out of it and say 'Mum, mum, help me, help me, stop this, stop this.
"Her face was so swollen, she looked as if she'd been in a car crash."
Doctors were forced to put the teen into an induced coma, and her mum says she was given just a 50/50 chance of survival after her brain began showing signs of swelling.
Last week at Inverness Sheriff Court, Strathspey Thistle player MacRitchie admitted supplying the super-strength 'Nintendo' tablet to the girl.
Fiscal depute Michelle Molley told the court that the incident happened at the home address of a friend of the victim.
The fiscal said that "many teenagers" had met to see in the New Year on December 31, 2013.
The adult householders were present but the majority of the people inside the property were under 18 and knew each other from school.
Ms Molley said that alcohol was openly drunk by the teenagers attending the party.
The victim, who cannot be named for legal reasons, arrived at about 8pm with a friend and was drinking alcohol she had obtained earlier in the evening.
Ms Molley told the court: "In the early hours of January 1, 2014 she and the accused met and began kissing.
"During the kiss the accused passed one item from inside his mouth into her mouth.
"The complainer swallowed the item.
"The complainer asked the accused what he had put into her mouth and he replied 'eccies' which she perceived to be the controlled drug commonly known as ecstasy.
"She terminated the contact and immediately proceeded to the toilet concerned at what she had ingested."
MacRitchie left the party shortly after the incident. The girl's mother then got a phone call to say her daughter had been taken to hospital.
"Around 1am, we were just heading back into Inverness when I got a call to say my daughter was in an ambulance on her way to Raigmore Hospital and that she'd taken ecstasy," she said.
"As we pulled up in front of A&E, her ambulance crew drew up. The back doors opened and I was just shocked by what I saw – it wasn't like my daughter.
"She was shouting, 'Mum, mum'. She'd been biting her mouth. It was horrendous – her mouth was bleeding."
She added: "People who say he didn't mean any harm don't know the effect it's had on her… Obviously, we wan't a custodial sentence."