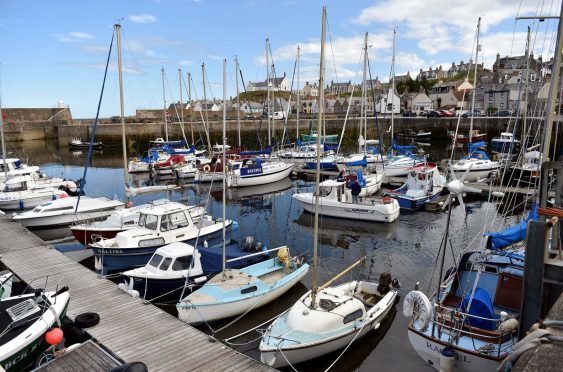 David Mackay
HARBOURS across Moray could become like "ghost towns" after the local authority controversially agreed to increase berthing fees.
Councillors approved a raft of proposals to make publicly-owned ports self-funding, after previously learning they require millions of pounds in repairs.
The price increases will impact the sailors older than 60 the hardest, and the increases – coupled with the removal of a seniors discount – means they will pay double what they do now.
And last night, one sailor said he was not prepared to be "held to ransom" by councillors comparing prices in other regions.
Tim Tregale, whose annual fees will double to £460, said he did not plan to return to Hopeman harbour next season as a result of the vote.
"I've spoken to a lot of guys and they're not going to come back next year," he said.
"I'm probably not going to be back either. It's my main hobby but I'm not going to be held to ransom because of price comparisons with Highlands and Aberdeenshire, where there are a lot more facilities.
"A lot of the guys are retired and use the harbour during the week. Well, it could be like a ghost town now because they won't be back.
"Yes, there are waiting lists for berths but a lot of people are going to come off them now after this."
Members of the economic development committee approved the proposals last week, but they were referred to the policy and resources committee for a final decision yesterday.
The SNP group had urged the committee to minimise the price increases, but failed to win the debate.
Increases to moor leisure and commercial boats to plug a £135,000 harbour deficit will now come into effect in April.
During the discussion, members argued that boat owners mooring their craft on the coast should be treated the same as parents taking children swimming.
Buckie councillor Gordon McDonald proposed a compromise of a smaller increase in charges with a reduction to the over 60s instead of scrapping it.
He said: "All I am looking for is equity and fairness. All the other leisure facilities we have are not being hit with such a massive increase."
Elgin City South councillor Graham Leadbitter added: "We recently refurbished the swimming pool in Forres for about £1million. I supported that.
"We are not expecting the people of Forres to pay a huge increase in pool charges to cover that investment. I don't see why it's reasonable to apply it in a totally different way to people who have small boats."
But their arguments were quashed by committee members eager to see the harbours reach break-even financially.
And last night an Elgin swimming instructor hit back at the comparison of swimming and sailing, and insisted that affordable access to pools was essential to save lives.
Kevin Anderson said: "Swimming is a life-saving skill. It has a huge benefit for your health as well.
"Parents always tell they want their kids to learn to swim when they are young, mainly as a safety issue because of the amount of rivers and coast we have."
Under the new system, prices will increase at Buckie, Findochty, Hopeman, Burghead, Cullen and Portknockie by £20 to £60 per metre for a pontoon berth and by £10 to £50 for crafts moored at harbour walls. The increases are expected to net the authority £90,000 a year.
Council leader Stewart Cree said: "I consider yachting to be the same as golf. It's useful for your health but you don't see the courses subsidised like leisure centres."