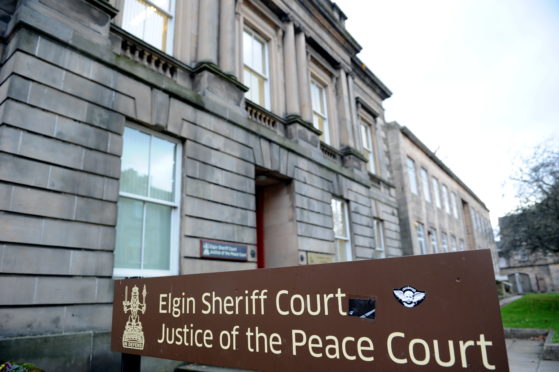 A heartbroken Moray man went on a drunken rampage which included stealing a bottle of vodka from a shop and smashing a bedroom window.
Barry Smith had broken up his girlfriend last Friday, but turned up at her house in Forres unannounced on Tuesday.
After having a civil conversation, Smith showered and collected some of his things from the house.
However, at 6.45pm that evening the 30-year-old was spotted by staff at the town's Co-op shop stealing a bottle of vodka worth £22.
Elgin Sheriff Court yesterday heard that Smith then went back to his former partner's home and let himself in, before shouting upstairs at her.
Depute fiscal Kevin Corrins said that her partner ignored her ex-boyfriend until he came upstairs to her bedroom 45 minutes later.
Mr Corrins said: "They had another discussion and she learned that the accused had been consuming alcohol downstairs, and she encouraged him to go to bed,
"She decided to just leave but when she got to the edge of the garden, she heard breaking glass and saw that the bedroom window had been smashed.
"Smith then left the property and when police found him later on, he could not understand why he was being spoken to."
Officers took Gray to Dr Gray's Hospital where he caused more commotion, by shouting and swearing and being abusive towards staff and patients, including disturbing a young child.
The accused, of Hillside Avenue in Dufftown, later pleaded guilty to charges of theft, vandalism and breach of the peace.
Defence solicitor, Kevin Anderson, said that alcohol had played a role in Smith's actions as he was already struggling after the end of his relationship.
Sheriff Olga Pasportnikov sent Smith to prison for 241 days.