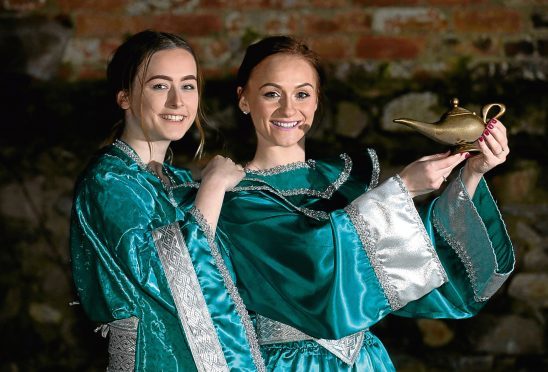 A cast of Moray performers hope they will not have to resort to rubbing a magic lamp to wish for a new home for their annual shows.
Buckie Community Theatre has been hosting pantomimes at the town's Fisherman's Hall since 1961.
However, fears have been raised that next month's performance of Aladdin could be their last at the historic venue.
Last night, the cast was rehearsing for the musical performance in their club rooms ahead of the spectacular shows.
Vicki Donn, who plays Aladdin, grew up watching pantomimes in the hall and believes not having the productions there is unimaginable.
The student music teacher said: "It's had a massive impact on our community. Not just for us but also for schools and weddings – my brother got married there.
"It's really exciting to be involved in these shows. With what I'm studying, it's good to be able to work with the younger performers and help them get experience."
Amy Lewis, from Portknockie, who is playing the Arabian princess, said: "The shows really bring everyone together, especially children.
"I've been in the shows for the last five years. It's given me the confidence to pursue a career in musical theatre."
Moray Council proposed shutting the Fisherman's Hall in its budget consultation unless a viable group to take it on could be found by the end of June.
A decision over whether the authority will press ahead with the plans will be taken on February 14.
A committee has been formed to formulate a take-over of the building, headed by Glen Campbell, a director at Buckie Community Theatre.
The group traditionally hosts pantomimes in February to take advantage of production companies being in less demand.
Yesterday, Kevin Oakes, who is directing the show, revealed the company had pushed the boundaries for special effects for the magic carpet and mystical genie.
He said: "Aladdin is probably one of the most popular pantomimes, just because it is so magical. The children really love it.
"I've been doing them for six years now but more than 50 have been held at the Fisherman's Hall. We really want to keep them going."
Aladdin is being performed at the Fisherman's Hall from February 14 to 17 at 7.30pm, with a matinee on the final day at 2pm.
Tickets can be bought by phoning 01542 488485 or 01542 832637. Entry £10, under 14s £8.