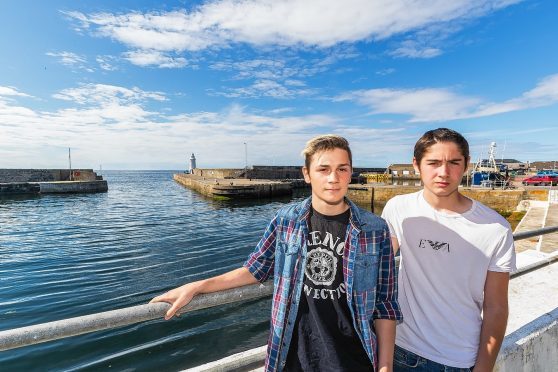 Two heroic teenagers have spoken of their attempts to save a man who died after they pulled him out of a north-east harbour.
Fifteen-year-olds Jordan Anderson and Kyle Chapman tried desperately to rescue Darren Paxton after he plunged into the icy sea off Macduff on Tuesday evening.
Jordan immediately jumped in as he witnessed Mr Paxton struggling in the water.
VIDEO: How brave teenager rescued man from chilly waters of north-east harbour
However it soon became apparent he wouldn't be able to reach him as he had injured his leg.
In a bid to help his pal save the 41-year-old, Kyle then reached for a life ring and helped Jordan pull him ashore.
Emergency services soon arrived at the scene.
However, despite being flown by Coastguard helicopter to Aberdeen Royal Infirmary Mr Paxton was later pronounced dead.
Last night the teens said they did not see themselves as heroes and said they acted without thinking, springing into action before police or lifeboat crews were able to make it to the scene.
Jordan said he jumped into the icy waters as soon as Mr Paxton, of Aberdeen, looked to be in danger.
He said: "I wasn't really thinking at the time.
"I just saw him in trouble and jumped in.
"I don't know what to think about people calling me a hero – it's quite a surprise, really.
"I just feel bad for this guy's family having to suffer through this horrific event."
Kyle, is currently visiting Macduff from Speyside for the summer to spend time with his grandparents.
He said he had been at the harbour by chance when events unfolded.
Kyle said Mr Paxton and a woman, who he believed to be his partner, had been walking along the pier opposite his group before he plunged into the water.
"We were all down there," he added.
"I don't think I did anything big.
"We saw a couple walking along the other side of the pier. The guy sat down for about 15-minutes and then jumped in the water. He was swimming fine, but then he started getting weak.
"He must have got a shock in the cold water and my mate thought he was drowning. He jumped in after him.
"He was about 16ft away from him but he hurt his foot – that's when I grabbed the life ring and threw it in."
Kyle said he was "shocked" when he heard Mr Paxton had died.
"I just saw it happening in front of me and I did what I could as quickly as possible to try to get him out," he said.
"I just feel sorry for his family."
Locals have now called for the teens involved in the rescue attempt to be awarded for their bravery.
And yesterday police chief inspector Neil McDonald paid his own tribute to their efforts.
He said: "I would like to take this opportunity to publicly acknowledge efforts of the members of the public, in particular some youngsters, who assisted in rescuing the man from the water when it became clear he was in difficulty.
"We would always encourage people to follow water safety advice in rescue situations but regardless this was an extremely brave effort which should rightly be recognised."
Police have yet to officially name the man involved in the harbour plunge, but he was named locally.
His next of kin have been informed.
A spokeswoman added no suspicious circumstances surrounded the death.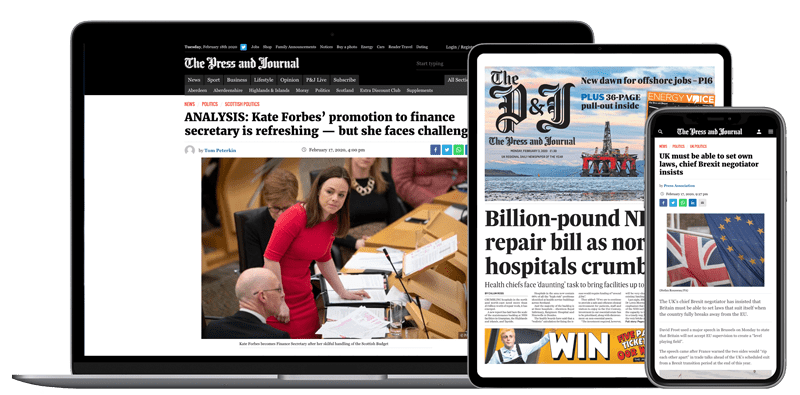 Help support quality local journalism … become a digital subscriber to The Press and Journal
For as little as £5.99 a month you can access all of our content, including Premium articles.
Subscribe