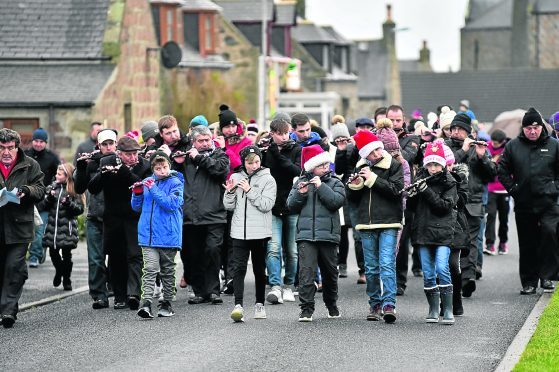 About 100 people marched the streets of a north-east village yesterday to help keep one of its oldest traditions alive.
Inverallochy's annual Cotton Walk has been held for more than 150 years each Christmas, beginning in 1842 when alcohol abuse was rife in the country.
Then, the walk was a symbolic protest against the evils of drink and all members of the band which leads the widely supported procession were required to sign a temperance pledge before taking part.
In more recent times, the message of abstinence has become more muted and the event is instead recognised as a celebration of the community itself.
The parade is led by Inverallochy's flute band, who place a wreath at the village war memorial each year, and brings in local school children who have learned to play an instrument.
It winds from the local community hall to the neighbouring village of Cairnbulg and on to nearby St Combs.
The event is the first of three traditional marches through nearby coastal villages, with similar events taking place in Cairnbulg and St Combs on January 1 and 2 respectively.
Local councillor Brian Topping has previously held the march up as a "fantastic sign" that similar traditions would not be lost in the north-east.
"People come out of their houses to follow them and use them to meet up. It's really good," he said.
"It really is a fantastic tradition."
Several years ago the walks were under threat because of a lack of uptake in flute playing, before local volunteers began offering their time to teach youngsters the melodies.