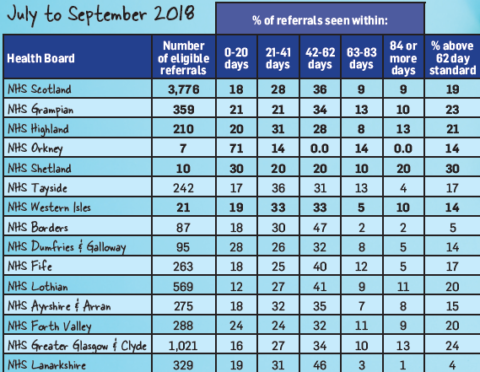 More than 20% of cancer patients in NHS Grampian and NHS Highland are waiting longer than the Scottish Government's 62-day target for treatment.
According to NHS data, around 23% of those seeking treatment for the disease in Grampian waited longer than 62 days while in the Highlands the figure was 21%. And across Scotland as a whole, the number of cancer patients who are having to wait longer than the target of 62 days to receive treatment has increased.
Health Secretary Jeane Freeman, admitted that the waiting statistics were "simply not good enough".
However, she added: "Recently I launched the Waiting Times Improvement Plan which, backed by an investment of £850 million, will drive down waiting times for cancer diagnosis and treatment, outpatient appointments and day case procedures."
Targets state that 95% of patients urgently referred with a suspicion of cancer will wait a maximum of 62 days from referral to first treatment. However, the figures published by the Information Services Division (ISD) indicate that across Scotland only 81.4% of patients managed to do so – a drop of 3.2% from the previous quarter (84.6%).
---
>> Keep up to date with the latest news with The P&J newsletter
---
The 95% target – which states patients must be seen within 31 days following a decision to treat to first cancer treatment – was met with 95.1% of patients doing so, a slight increase from 95.0%. NHS Borders and NHS Lanarkshire met the 62-day target, but it has not been met at nationally since 2012.
In Grampian, only 76.6% were treated within 62 days, making it the third worst region in Scotland, behind Greater Glasgow and Clyde and Shetland.
In NHS Highland, 79% of patients met the 62-day treatment target and 13% waited more than 84 days. In Grampian 10% waited more than 84 days.
North East Lib Dem MSP, Mike Rumbles said: "Month after month, the figures prove that healthcare in the north-east is at rock bottom and Scottish Government ministers still refuse to lift a finger to help."
Tory MSP Edward Mountain said: "NHS Highland must take urgent action to improve waiting times."
An NHS Grampian spokeswoman said: "Unfortunately the initial waiting times for some specialities are longer than we would like and we are working to improve these".
NHS Shetland said ensuring quick treatment was an "absolute priority", but some patients had to be sent to the mainland which could add to the wait.
An NHS Highland spokesman said: "Performance against the 62 Day Waiting Times Standard is a national challenge for specialities such as urology and gastroenterology. These issues are not unique to NHS Highland.
"The board is working with regional and national colleagues in order to bring about an improvement in performance during 2019. In gastroenterology, a new test has been introduced within the community and is expected to reduce demand by about 15% and provide additional capacity for suspected cancer patients.
"Within urology, additional clinics and theatre activity is being provided on a regular basis.
"We appreciate that this can be a difficult time both emotionally and psychologically. We make every effort to communicate with our patients in order that they understand the reason for their wait and for prostate patients, due to the nature of the illness, this means that they can be well in excess of the 62 Day Standard."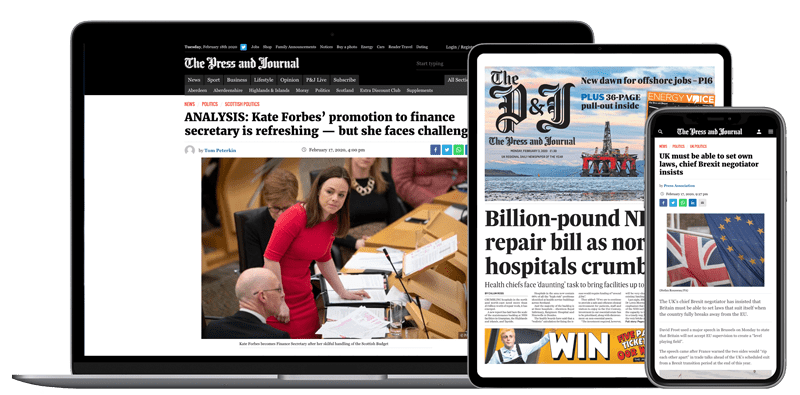 Help support quality local journalism … become a digital subscriber to The Press and Journal
For as little as £5.99 a month you can access all of our content, including Premium articles.
Subscribe