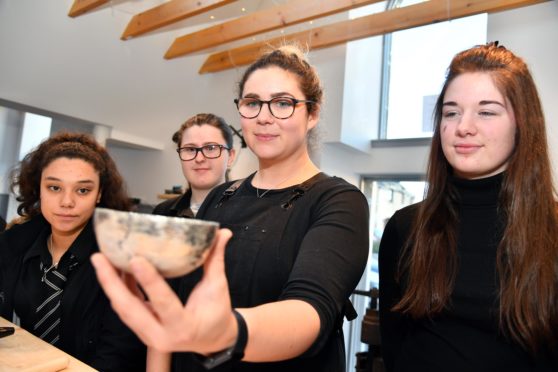 A new project in Banff hoped to help improve confidence for young people through metal work has been made possible with a boost in funding.
The Make in Metal scheme will be based at the Smiddy Centre for Excellence for Silversmithing and Jewellery.
It secured money through the Opportunities for Young People Grant Funding scheme.
Organisers hope learning the historic art of silversmithing will help boost self-esteem and develop skills.
It will give youngsters a chance to socialise in a warm and safe environment every Tuesday night.
The initiative is open to people aged 16 to 25 living in the Banff Academy catchment area.
It comes just months after the Smiddy was officially opened as a centre for silversmithing.
The restored building on Old Market Place has been open as a base for the centuries-old craft since September.
Art students from Banff Academy have already been working alongside designers from the Smiddy on their own jewellery designs as part of the Meet the Maker project.
The new venture could also prove a draw for tourists visiting Banff and the surrounding area.
Glasgow-based jewellery school Vanilla Ink runs the project and employs silversmith Meghan Falconer and workshop coordinator Alison Arrowsmith.
Last night Mrs Arrowsmith welcomed the funding boost and said it offers young people living in the Moray Firth town a unique opportunity.
She said: "We are really excited to have received the Opportunities for Young People Grant to allow us to develop this project.
"We wish to offer local young people the opportunity to come to The Smiddy to learn new skills and socialise in a safe and comfortable environment.
"We recognise the benefits in building resilience in young people.
"The simple process of making, develops skills, confidence and builds self-esteem."
Classes will run every Tuesday night and cover different techniques in silversmithing and jewellery making including silver casting and wax carving.
The scheme is free and runs for the first time on Tuesday, February 5 at 6.30pm.