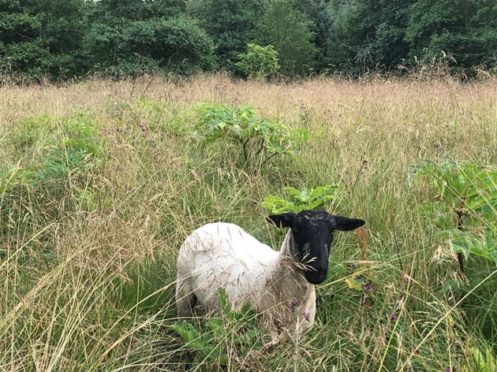 A new woolly weapon has been deployed in the battle against a poisonous weed blighting a north-east meadow.
Giant hogweed can grow up to 20ft tall and cause problems for native plants by blocking out shade.
The invasive species and its sap can cause serious burns to people on contact.
Chemicals are traditionally used to tackle the white-flowering giant menace, but a trial project in Macduff is using a different method.
The Scottish Invasive Species Initiative (SISI) have brought in a flock of two dozen sheep to a strip of woodland near Macduff Distillery to chomp their way through the plants.
The animals suffer no ill-effects from the toxic sap and develop at taste for giant hogweed as they graze.
It follows a similar experiment by the Deveron, Bogie and Isla Rivers Charitable Trust which began using sheep to control the hogweed in 2013.
Now hopes are high the move could provide a viable alternative to the use of chemicals.
SISI project manager Callum Sinclair said: "The project is tackling several key invasive non-native plant species commonly found along river banks namely giant hogweed, Japanese knotweed and Himalayan balsam.
"One of our aims is to develop sustainable methods of managing invasive species, if the sheep prove to be successful at eradicating giant hogweed this could be a huge step forward for the management of the species across Scotland."
The woodland chosen for the project will be fenced in and the sheep will be introduced to the half mile site near the River Deveron this week.
Al Reeve, SISI project officer, urged any local dog walkers to take care when they are out with their pets near the trial area.
He said: "We know that this is a popular path for dog walkers and so we really need the support of the Macduff and Banff communities whilst the trial is running.
"In particular we ask that people remember there are now sheep in this woodland and act accordingly by keeping their dogs on a lead and closing the gates behind them.  The path is still open for use."
The Scottish Invasive Species Initiative is a four-year project led by Scottish Natural Heritage which is working across northern Scotland to tackle the problem of invasive non-native species.