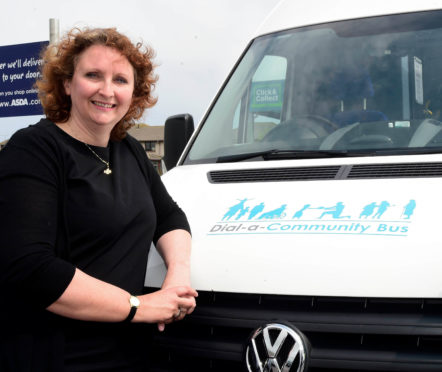 A former policeman who volunteered with a north-east charity at the heart of an unfair dismissal row has told a tribunal that its chairman's management style "verged on bullying".
Rachel Milne has taken legal action against Maud-based Dial-a-Bus after being sacked amid accusations that she laundered £10,000 from the organisation, and took time off without asking, last year.
An employment tribunal in Aberdeen yesterday heard from Alan Brown, who gave evidence relating to his 25 years working within the organisation.
Mr Brown, who was a volunteer driver whilst still employed as a police officer but took on a paid role after his retirement in 2014, had been the chairman of the charity and was also on the board of directors.
He said chairman Spencer Critten often "forced his opinion" on staff.
And he backed Mrs Milne's claims that she was "stressed" due to a heavy workload around the time of her dismissal.
He said she had "often" worked extra hours for the company, but that her dedication was met with "disgust" when her overtime was brought up at board meetings.
Mr Brown added: "Rachel's lieu time would mount up – we all told her to try and take some time off as we were concerned for her welfare.
"She was working excessive hours. It would not be uncommon for me to get emails from her at 10 or 11 o'clock at night."
Mrs Milne was removed from her post last April after being accused of money laundering and of taking time off in lieu without authorisation from her line manager.
When asked about Mr Critten's style of management, Mr Brown said it had "verged on bullying".
The 53-year-old said: "He was very overbearing – he had no real caring for any individuals.
"He is very money driven and would force his opinion on others."
Mr Brown told the tribunal that senior management had traditionally  maintained a level of trust when it came to taking time off in lieu, and that the system was "largely self-managed".
Mr Brown resigned from Dial-a-Bus last June after being reprimanded for removing Mrs Milne's personal effects from her office.
He said: "Mr Critten told me I was being considered for a gross misconduct having stolen confidential documents from the office."
When questioned on what those documents might have been, Mr Brown said it had been Mrs Milne's personal diary and belongings.
He added: "It had been the final straw."
Mrs Milne is seeking compensation from the charity. The employment tribunal, before judge Sandy Kemp, continues.