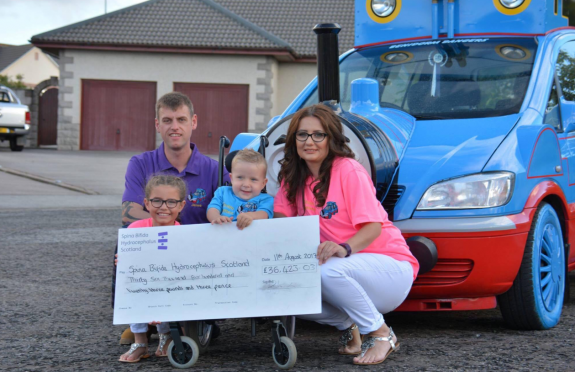 A charity chief has praised a north-east family who drove across Europe in a Thomas the Tank Engine car – after they raised £36,000 to help support suffers of spina bifida.
A team of Peterhead family and friends called the Bloo Toon Loons designed the car to take part in the Benidorm Banger challenge to raise cash for Spina Bifida Hydrocephalus (SBH) Scotland. The group was inspired by team member James Ritchie's two-year-old son, also called James, who loves Thomas the Tank Engine and suffers from the condition.
With sponsorship, an auction for the car and a charity bike ride, the group raised £36,423 for SBH.
Thomas car built for cross-Europe rally auctioned off for charity
The fundraising effort came as part of the wider Team James drive, which also included a sponsored zip slide, abseil and ladies day.
Last night charity chief executive Andrew Wyndsaid: "SBH Scotland supports 256 people across Aberdeen city and Aberdeenshire and this money will go a long way towards maintaining our specialist services of support groups, combined clinics, one-to-one sessions, outings and monthly accessible activities.
"For such a small charity, we are very grateful to have such dedicated fundraisers who are directly impacting services and allowing us to give the best possible support to all those affected by the life-long, complex conditions of spina bifida and hydrocephalus in the north-east."
James's mum, Emma, said the team never anticipated how much support and encouragement they would get from the whole town. She said: "We would like to thank everyone for their generosity and help, this money raised will go a long way helping families on a daily basis."