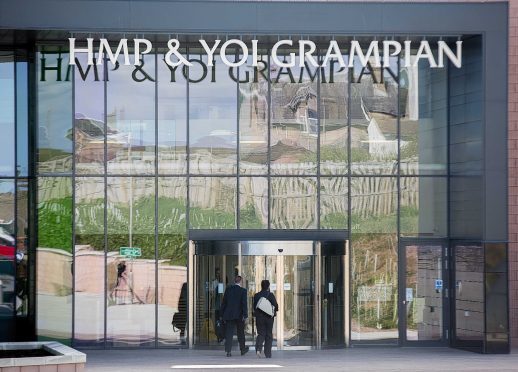 More than 70 inmates in a north-east jail are being paid to sit in their cells – at a cost of about £20,000 a year.
Since it opened, HMP Grampian has come under criticism by politicians who have branded the facility an "expensive failure".
Now critics have raised fresh concerns that paying prisoners thousands of pounds a year to sit idle will not help with their rehabilitation.
The Scottish Prison Service (SPS) offers inmates work or educational opportunities at a rate of about £5 per week.
That is paid, however, even if no opportunities exist and a Freedom of Information request revealed this week that 74 inmates at the Peterhead prison are in that position.
It costs the tax payer £370 a week – a potential £19,240 a year – to fund them, while a smaller sum of £40 a week is being paid to 'unemployed' inmates at Inverness.
At the time of the FOI, the shock figures reveal that 1,318 prisoners nationally were in that position and were being paid a total of £6,590 a week.
Were the sum to remain at that level, it would equate to about £343,000 over the course of a year.
Last night, Liam Kerr, the justice spokesman for the Scottish Conservative party, said the figures released by the SPS did not represent "value" for money.
"These figures reveal an alarming number of inmates are being paid to simply sit in their cells," he said.
"That is not going to help the rehabilitation process and it will not provide value for taxpayers' money.
"The Scottish Conservatives have been arguing for some time now that all prisoners should have the opportunity to work or improve their education and skills while serving sentences."
A spokesman for the SPS said the nationwide figures included 105 prisoners who are in segregation and 100 more who are serving sentences of less than 45 days.
"The total number also includes those prisoners who are currently out of classification awaiting transfer to another establishment," he said.
"As a result, they will not be a member of a work party whilst awaiting transfer."
Bosses at HMP Grampian have previously come under fire for moving all youth prisoners out of the region.
Young offenders have not set foot inside the walls of the multi-million pound facility since riots in 2014, when about £140,000 worth of damage was caused.
Last month, a spokeswoman for the SPS said no plans were yet in place to bring any back to the region.
The UK's prison population
The UK has the highest prison population in the EU – with nearly 100,000 people locked up, according to a new report.
A snapshot of figures from 2016 showed 94,291 individuals were in jail or immigration detention in England, Wales, Scotland and Northern Ireland.
Of more than 40 administrations which took part in the analysis published by the Council of Europe, only Turkey had more inmates, with 192,627.
The study said there were 85,134 inmates and detainees in England and Wales at the end of June 2016, while Northern Ireland and Scotland had 1,500 and 7,657 respectively in September of that year.
The combined total was the highest for all of the EU member states, and compared with 68,514 in France, 64,397 in Germany, 54,195 in Italy and 60,687 in Spain.
England and Wales had a prison population rate of 146.4 inmates per 100,000 inhabitants, which was higher than the Europe-wide average of 127.2.
England and Wales had one of the highest numbers of prisoners serving life, with 7,361, according to the study which is known as Space.
The prison population has come under sharp focus in recent years as jails were hit by surging levels of violence, self-harm and major disturbances.
The number of prisoners in England and Wales almost doubled between 1993 and 2016, and has remained around the mid-80,000 mark in recent years.
Penal reform groups have repeatedly highlighted overcrowding as a factor in declining standards behind bars.
The latest Ministry of Justice figures show 83,921 people were held in prison or state-run immigration removal centres as of Friday March 16 – down by 1,580 compared with 12 months earlier.