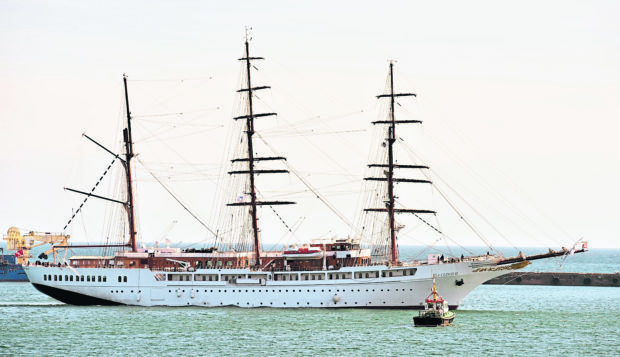 The organisation in charge of marketing the north-east to tourists is being urged to help Peterhead get its fair share of cruise liners.
Councillor Stephen Smith wants Visit Aberdeenshire to formally back local efforts aimed at providing passengers with information about nearby attractions.
At the moment volunteers run so-called welcome desks to greet travellers and tell them about attractions such as Aden Country Park in Mintlaw or Peterhead Prison Museum.
Mr Smith wants the tourism group to fully support the scheme so more people stay in the Blue Toon and surrounding area.
Just last month the Sea Cloud II docked at Peterhead and with the £51million upgrade of the harbour nearing completion five cruise liners have already signed up to visit the town.
Mr Smith, the councillor for Peterhead South and Cruden, said the cruise liner sector offers "valuable opportunities" for local business.
He said: "Around one third of cruise ship passengers opt to stay in port and not go on scheduled excursions. This, along with the needs of several hundred crew who get free time during their ship's time in port, means there are valuable opportunities for local businesses.
"Currently, local efforts have seen several of the cruise ships provided with 'welcome desks' staffed by locals offering information on local attractions such as Aden Country Park, the prison museum, Arbuthnot Museum, and so on.
"Visit Aberdeenshire needs to recognise the opportunities here in their strategy and commit to supporting the efforts to get more local spend from cruise ship visitors in Peterhead and Buchan.
"The efforts by the local team heading up the 'welcome desk' initiative have been well-received by cruise passengers and resulted in visits being made locally which may not otherwise have happened.  This initiative needs to be built on and supported formally by Visit Aberdeenshire."
Last night, Visit Aberdeenshire boss Chris Foy said they were working to "strengthen" the area as a destination for cruise liners.
He said: "Peterhead Harbour and Aberdeen's harbours will play important roles in the development of cruise tourism in the north-east.
"Visit Aberdeenshire is engaged with Peterhead Harbour and will continue to work with them to further develop and strengthen the north-east region as a world class cruise destination for vessels and operators of all sizes."