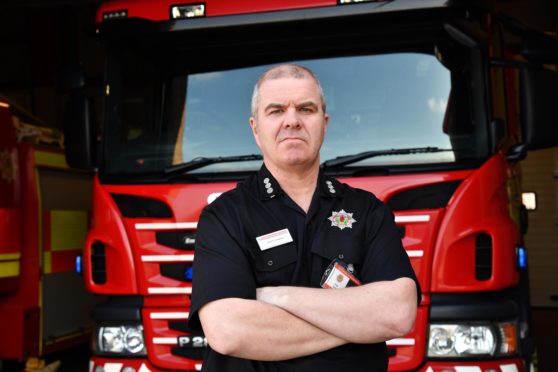 Businesses across Buchan are being blighted by wilful fire-raising and it must stop, a senior fire officer has said.
Crews have attended four deliberately started fires since January, each with the potential for catastrophic consequences.
The most recent resulted in damage and disruption to the Rockfish Takeaway and The Retreat Hair and Beauty Salon in Whitehills.
The four incidents diverted firefighters from genuine emergencies, have hurt businesses and their staff and will have cost the tax-payer thousands of pounds.
More worryingly, Peterhead fire station manager Craig Shand said those responsible clearly had no insight into the potential consequences of their actions.
In an effort to address that, Mr Shand and his crews are urging members of the public to be more aware of the dangers of fire-setting.
---
>> Keep up to date with the latest news with The P&J newsletter
---
The fire service recently launched its national #StampItOut spring safety campaign along with the police to trace those responsibly for deliberately-started fires after 1,800 were recorded between March and April last year across Scotland.
Mr Shand is spearheading the fire service prevention efforts in the area and will play a role in educational drives to help enlighten communities on the consequences.
He said: "Deliberate fires are never acceptable. These kind of incidents are needless and endanger members of the public as well as fire fighters.
"As a service we strive to make our communities aware of the dangers and consequences of setting a fire but the bottom line is we take a zero tolerance approach to such behaviour.
"For businesses such as those affected by the wilful fire at Whitehills at the weekend there is the knock on effect of costs to the employer in replacing the damaged items, insurance costs rising, the cost to the people they rent equipment from, possible effects on the employees, it goes on.
"A fire in a wheelie bin can have a massive impact and it's not good when we're hearing of more and more happening.
"We attend these incidents and see the impact they can have and believe me, it's not nice.
"There is also the cost to the tax payer of sending us out – that's money better used elsewhere in the community.
Local fire-fighters are planning to visit Banff Academy after exam season and are also targeting parents and carers in the area to make them aware of the hazards of such blazes.
For more on the fire service campaign visit www.firescotland.gov.uk/your-safety/deliberate-fires.
Anyone with information relating to the Whitehills fire is asked to call police on 101 or Crimestoppers anonymously on 0800 555111.