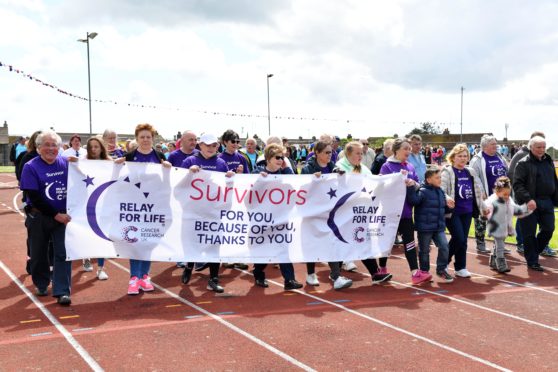 The 13th annual Relay for Life Peterhead has raised more than £140,000 for Cancer Research UK.
Teams of survivors, friends and family took part in the round-the-clock charity walk at Catto Park to muster funds for life-saving research.
Survivors took to the 400m track for the event's first lap on Saturday morning, showing their resilience and strength and kick-starting the event which raised £144,903.24.
All 32 teams had a member moving round the track at all times and defiantly refused to let the intermittent showers spoil their fun.
Other people participated in activities, competitions and games as well as the popular candlelit procession, which was held on Saturday night to remember those who had lost their battle with the deadly disease.
Event chairwoman Lorraine Coleman is only too familiar with the struggle the survivors, families and friends have faced.
She underwent chemotherapy for breast cancer and has been taking part in the relay since 2009.
Now chairwoman of the event, she said: "We were delighted with out total of £144,903 – everyone was so happy when we found out how much we had raised.
"We had a wonderful relay which was carried out in terrific spirit.
"32 teams were taking part on the day and we had 34 fundraising through the year.
"This year, we had teams from all over the north-east: Aberdeen, Fraserburgh, Mintlaw, New Deer, Maud, Crimond and Huntly to name just a few.
"I want to thank everyone involved who made this year a success.
"The moment that stood out for me this year was seeing 93-year-old Hilda and 19-year-old Rachel taking part in the survivors walk as it was simply inspirational."
In east Aberdeenshire alone, statistics show that around 3,200 people are diagnosed with and treated for cancer ever year.
By 2040, Cancer Research UK is hoping that 75% of people diagnosed with the disease will survive the life-changing illness.
Since it started in 2006, the Peterhead Relay for Life has raised £1,946,427.
And the organisers are still quietly confident this may be the year their initiative smashes the £2million target.
Mrs Coleman said: "This is just our on-the-day total.
"We've still more money to come in from all of the different things people have been holding and donations coming forward.
"It will be revealed in August once we have our full total whether we hit the £2million mark. There's always a lot comes in later, so fingers crossed."