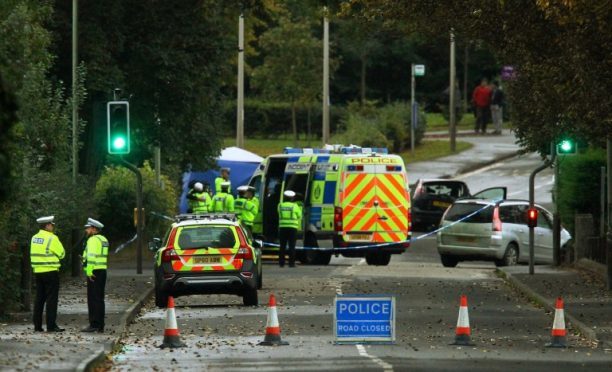 Police have named the two-year-old girl killed in a crash in Coupar Angus yesterday as Harlow Edwards.
The toddler was walking on the pavement with her six-year-old brother and 17-year-old sister when she was struck by a vehicle involved in a crash on the A94.
Her brother and sister remain in hospital after the incident.
A police spokesperson said: "Enquiries into the full set of circumstances of the incident are on-going and Tayside Division would appeal to anyone who may have information that could assist officers with their enquiries to contact 101, or speak to any officer."
Floral tributes and a poignant note have been left in memory of Harlow.
The note reads: 'Sleep tight little one in the arms of your angels. So sad.'
The sombre mood was also reflected by many residents in Larghan View.
Elsie Howarth, 62, said: "I did hear a lot of commotion at the time and could see lots of flashing blue lights nearby from one of my windows. I don't know all the circumstances but it must be unbearable for the family to lose a child so young like this.
"My heart goes out to them."
A neighbour of Mrs Howarth's, who wished to remain anonymous, added: "It's so sad. We moved here recently and it's awful to hear of this tragedy."
Another female resident, who also didn't wish to be named, commented: "It's a real tragedy. We don't know what happened but there is a lot of speeding on this stretch of Forfar Road.
"The 30mph speed limit was extended when Larghan View was built but it hasn't made much difference."
Scores of tributes were also made on social media. Marlyn Chambers posted a message on Facebook: 'Absolutely heartbreaking. Thoughts and prayers go out to the family.'
Carole Thomson added: 'This is just awful news. Heartfelt condolences to the family.'
Meanwhile, Margaret Watt posted: "Dreadful. Fly high with the angels wee one. Hope the others recover soon.
"Thoughts with the family and the emergency services."