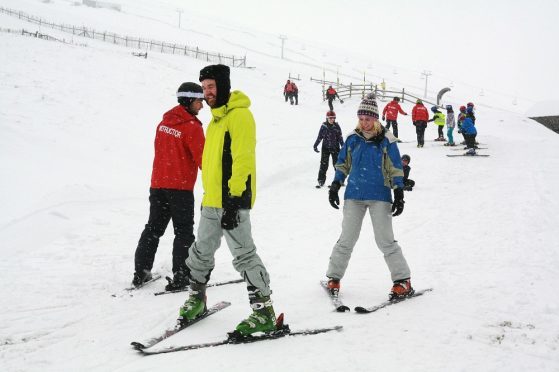 Yesterday's snowfall over large parts of Scotland signalled a welcome return to business for some of the north's skiing and snowboarding areas.
The Met Office had a yellow warning for snow in place until 9pm last night, covering large areas of the Highlands, Grampian, Strathclyde, Central Scotland and the Borders.
Most of the snow fell above 650ft, with some more intense bursts taking it temporarily to lower levels.
Some snow was expected to persist over the high grounds of the Grampians overnight, however this was not predicted to be disruptive.
Olly Claydon, Met Office spokesman, said the weather would remain cold for the rest of the week, with areas such as Aviemore getting down to -2c at nights. He added: "At the weekend there is still a chance of freezing temperatures."
Nevis Range at Fort William was able to open its upper runs for the first time this season as a result of the snow, which had been building up since the weekend.
Previously the area had been open with only its artificial lower ability run in operation.
Heather Negus, marketing manager, said last night: "It is still snowing at the moment. It is improving the conditions.
"Upper runs are open for the first time this season.
"We are absolutely delighted. It is hard to run a ski area when you don't have enough snow. We are delighted the snow has come at last. It is maybe a bit of a later start to the season than normal but maybe that means there will be a later finish to the season. We are looking at it very positively."
Glencoe was also able to open some runs yesterday. Andy Meldrum, managing director, said: "We opened some runs today too. This will be our fifth day to the season. We opened between Christmas and New Year and for a couple of days in January. This is the first time for a few weeks.
"Once the runs are groomed up they should be quite nice. It is snowing at the moment and it is to be cold, so now that we have got the snow, it looks like it is going to stay around."
Cairngorm Mountain said it planned to open for snow sports tomorrow, Thursday, after machines have moved the snow about today.
A statement on The Lecht's website said there was "not quite enough snow," but that it was "getting there".
The Glenshee website said the Claybokie and plastic runs were open with "thin wet coverage".