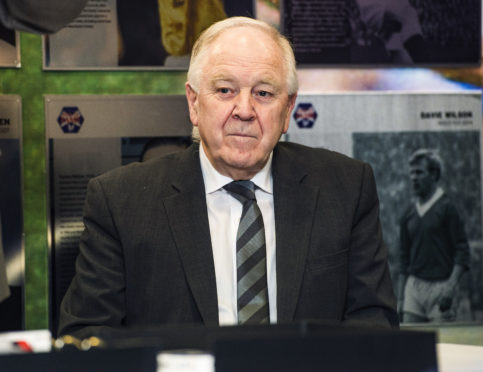 Former Scotland and Aberdeen manager Craig Brown has backed the Scottish Football Association's move towards a ban on heading in the under-12s game.
The SFA is reported to be close to imposing such a ban in training, although the timescale for introducing it is unclear.
The United States has had a similar ban in place since 2015 but the SFA's move would make Scotland the first European country to impose such a restriction.
It follows the publication of a study by Glasgow University last year which found footballers are three-and-a-half times more likely to die of a neurodegenerative disease than age-matched non-players.
Yesterday, Mr Brown revealed that fellow Dons boss, the late Billy McNeill – who was the first British player to lift the European Cup with Celtic in 1967 – told him he used to practice heading "50 times a day" at training sessions throughout the 1960s and 1970s.
He said: "This is a big issue for the game and I back the expertise of the doctors. If they think there is a link, then we have to take steps to respond to it.
"I remember talking to Billy (who died of dementia last April, aged 79), and he was a fantastic header of the ball throughout his Celtic career.
"He told me that he used to practice heading 50 times a day at training sessions. Multiply that by five or six and it adds up to 250 or 300 a week.
"Think of the impact of that on your head – and it was a much heavier, leather ball in these days. That's before you take into account how often he headed the ball in matches.
"It's a different sport these days – there is far less heading than there used to be – and, obviously, if this plan is introduced at all levels, it will change the game.
"But if the doctors say there's a problem, we can't afford to ignore their advice. Dementia is a horrible illness and Billy suffered later in his life."
Gothenburg Great Neil Simpson, who now works with Aberdeen FC's football academy, said he and his colleagues would take whatever steps were necessary to back the SFA proposals.
He added: "As an academy, we will be guided by the authorities and adapt accordingly.
"The health and welfare of our players is paramount at all times, both short and long term."
The SFA will finalise the proposals in the coming weeks.
It could be in place for the grassroots season, which runs from March to November
The SFA's doctor, John MacLean, was part of the research team which highlighted that former players are three-and-a-half times more likely to die of dementia than other members of the public.
He said: "We need to take some sensible, pragmatic steps at the moment and that's largely going to be about trying to reduce that overall burden, the overall times that young players head – and heading in training is much more common than in matches.​"
Dementia UK has commended the SFA's proposal as it prepares for a rapid increase in the number of people living with the condition in Britain.
The current figure of 850,000 is expected to rise to more than a million by 2025.
Brain injury association Headway, meanwhile, has called for further research.
Rangers manager Steven Gerrard agreed work must continue to establish whether there is a link between playing the game and dementia, but he said he believes heading practice still has a place in grassroots football.
He said: "I used to love heading balls, probably from the age of four.
"So I wouldn't take it away from them completely because they will be watching their heroes every day on the TV, heading and scoring goals.
"But you can certainly do things; you can help them by making the balls smaller or lighter, or doing heading in a different way, without using the heavy-case balls."
Dementia UK has also welcomed the SFA's proposal to stop youngsters heading the ball.
A spokesman said: "There have been concerns for some time about the higher risk of dementia for some occupations and some forms of head injury.
"Our specialist nurses have worked with people with dementia who have played football professionally and whose family are concerned about the possible link of dementia from brain trauma due to prolonged heading of the football, especially the old leather ones.
"Whilst there are a number of risk factors for dementia,  this decision from the Scottish FA is important as it shows an increased awareness of the damage that can be caused to the brain from prolonged heading of a football especially in a young child or adult.
"It is also a prime example of ways to potentially mitigate against increased diagnoses in the future. This has to be balanced, however, with the positive health benefits of exercise and team activity.
"There are footballers living with dementia right now and both they and their families urgently need dementia care and support."