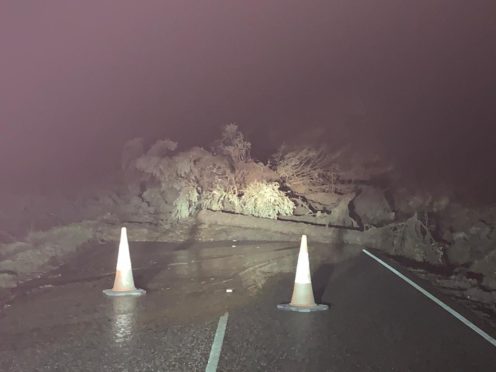 The A83 is closed at the Rest and Be Thankful after a landslip.
BEAR Scotland said around 1,000 tonne of debris has landed on the major Argyll route.
Staff are on site assessing the situation and when safe to do, so will commence clearance operations.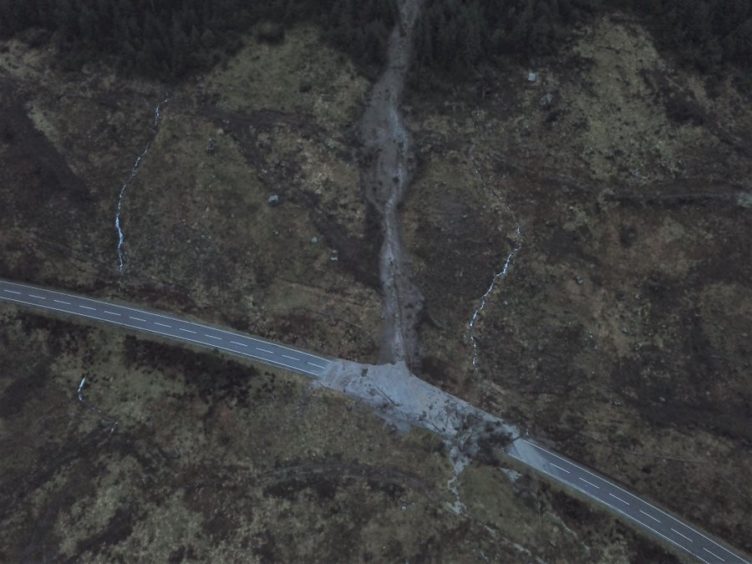 The Old Military Road will be assessed this morning to consider if it safe to use to use as a diversion, a spokesman said.
A 60-mile diversion is currently in place.
Western Ferries has said it will be running additional sailings today, if required, to help keep "Argyll moving through the A83 Rest and Be Thankful closure".
Eddie Ross, BEAR Scotland's north west manager, said: "Safety is our top priority, and we're doing all we can to assess the slope and the extent of the debris from the steep hillside above the carriageway. The landslide is east of the normal landslide susceptible area but is within the section of the A83 that we could use the Old Military Road.  The Old Military Road will be assessed this morning to consider if it is safe to use.  In the meantime traffic will be diverted via the A882/A85/A819"
"As ever, we thank the local community and road users for their patience and assure them we're doing everything we can to address the landslip at the Rest and Be Thankful as quickly and safely as we can. We remind road users that Argyll remains open for business, and rest assured we're doing everything possible to ensure the A83 opens as soon as it is safe to do so."
"Road users should also check Traffic Scotland for the latest information about the Rest and Be Thankful, and we'll be doing our best to keep stakeholders updated on progress."
The ongoing problem was brought to the attention of First Minister Nicola Sturgeon in the Scottish Parliament.
Highlands and Islands MSP Donald Cameron said: "Landslips regularly close this section of road, cutting off large swathes of Argyll and the West Highlands. Communities and businesses are at their wits end as a result. Will the first minister accept that papering over the cracks is no longer working and that a long term, permanent solution is urgently required?"
❗️UPDATE⌚️08:15#A83 at Rest and Be Thankful remains CLOSED⛔️ both ways due to substantial debris on the road.@NWTrunkRoads are out to inspect.

In the meantime, #UseAltRoute – you can also take the ferry @Western_Ferries pic.twitter.com/qLP6f0LNPS

— Traffic Scotland (@trafficscotland) January 30, 2020
Ms Sturgeon said: "I am aware of the very difficult situation. This landslide is in a different area that has been experienced in past years.
"We will continue to look for further improvements which can be made here. I absolutely understand the inconvenience and frustration that travellers who use this road will be experiencing today."
The Leader of Argyll and Bute Council called on the Scottish Government to commit to a permanent solution for the A83.
Councillor Aileen Morton said: "The Scottish Government needs to make a commitment right now to finding a permanent solution for the A83 – no more prevaricating and faffing about, no more talking about processes and procedures, no more delays. The A83 is a crucial part of Argyll's transport network and therefore a crucial part of Scotland's transport network when you consider the scale of high value products such as whisky, timber and seafood that are produced here.
**Update**

The #A83 #RestandBeThankful is now open via the Old Military Road (OMR) local diversion route after a landslip occurred earlier this morning. Traffic will be controlled in a convoy system for safety. More here: https://t.co/SGyApp6wFV pic.twitter.com/ODene5nxC4

— BEAR NW Trunk Roads (@NWTrunkRoads) January 30, 2020
"The last landslip had a hugely negative impact on local businesses, and as well as day-to-day inconvenience for local residents it caused problems with essential services such as access to medical treatment. The council and the people of Argyll and Bute have been asking for a permanent solution for a decade. Enough is enough."