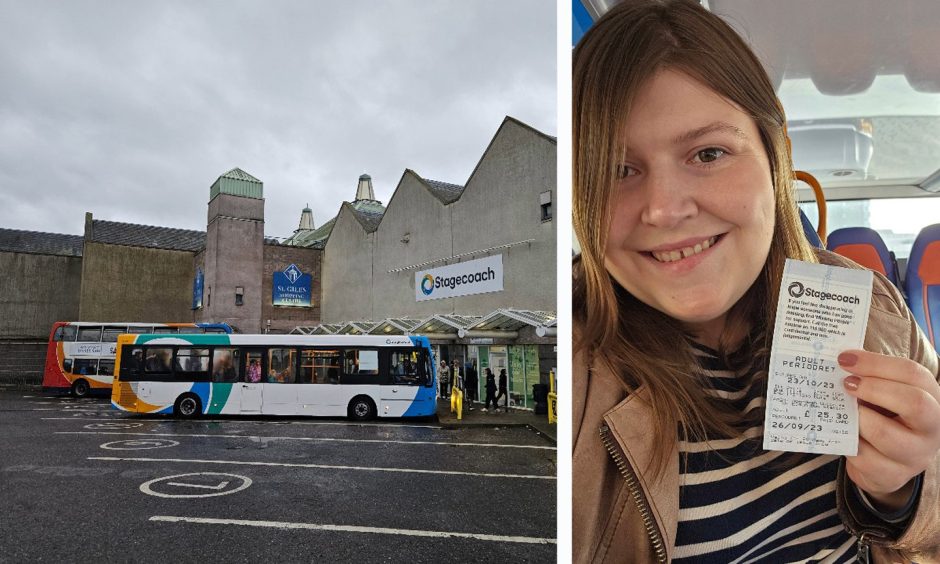 Bus services in Elgin and around Moray have been in the spotlight for all the wrong reasons recently — with long lists of cancelled buses announced daily.
Every week I see fury on social media from angry passengers, frustrated about disruptions to their journeys.
But are the problems with the buses really as bad as people are saying online?
I wanted to put their complaints to the test, and find out what people who rely on these bus services actually think.
So, I took the bus from Aberdeen to Elgin and back, to speak with passengers and businesses, to find out if things really are that bad.
Read on to find out about:
My own experience on the number 10 Aberdeen to Elgin journey 
What people in Elgin thought about the disruption
My encounter with boozy, shouty teenagers at the station
How a shop worker from Lossie needs to arrive an hour early to work in Elgin by bus, or face being late
And if the new M96 is actually any better than the number 10
Aberdeen bus station: would my bus arrive (and be on time?)
There was a crisp winter feel to the air as I sat at the bus station in Aberdeen on Tuesday morning.
The number 10 bus heading to Elgin and then Inverness was due to leave the city at 9am.
As someone who grew up in Elgin and moved to Aberdeen for university and work, I consider myself well acquainted with the number 10 service, and its reliability.
As I was waiting, three other services destined to leave from stance four began flashing up with 'DELAYED'.
"Great start", I thought to myself while I kept a close eye on the board to see if my bus would still arrive on time.
I had taken a quick glance at the Stagecoach Twitter/X account beforehand and couldn't see any disruption in Moray, which admittedly, felt unusual.
The station was a flurry of movement, as people came and went and bus drivers in hi-vis jackets started crowding around waiting for their coaches to come.
Number 10 Aberdeen to Elgin… but not the bus we were expecting
Thankfully, our bus arrived on time… but it wasn't the one I was expecting.
Normally, it's a big, comfortable coach between Aberdeen and Elgin which I find cosier than the train.
But, instead, a double-decker trundled into the stance, and suddenly a queue formed from what felt like nowhere.
And, like me, others were surprised to see the double-decker instead of a coach pull up to their stop.
Bus ticket prices and time scales compared to taking the train
I bought my return ticket for £25.30, more expensive than I can remember it being, and took a seat downstairs.
The number 10 Aberdeen to Elgin bus has 73 stops and takes two and a half hours, as opposed to an hour and a half on the train — which can cost £43 for a return, or £33 for an off-peak return.
So, it's still by far the cheapest option for anyone looking to travel by public transport, unless the train tickets have been bought well in advance, or if you have a railcard.
And of course, those under 22 and over 60s can travel on the bus for free.
As the bus rolled out of the city and into the countryside I began to realise how uncomfortable it was compared to a train, and that there was no toilet available.
It was quite a quiet service, especially because the bus itself was electric, but everyone else around me still had their jackets on because of how cold it was.
After almost two and a half hours I was relieved to see Elgin coming into sight.
As I sat there watching eagerly out of the window I couldn't help but think if I'd taken the train or even the car, I would have been there an hour ago.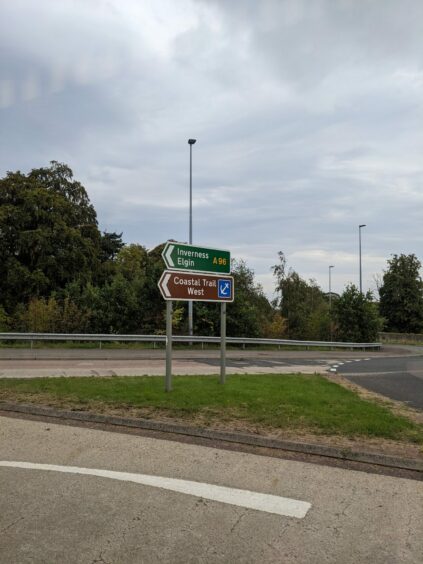 The family behind me were chatting excitedly in another language that I couldn't quite place as we drove through the Pinefield Industrial Estate towards the town centre.
I'm not sure what they were talking about exactly, I could hear the kids were definitely excited about Harry Gow the baker.
Elgin bus station — buses are 'terrible' and 'don't appear' says one passenger
After getting off the bus in Elgin, I wanted to see what people at the station thought of local bus services.
The bus station at Elgin is right next to the St Giles shopping centre. It feels like waves of people come and go during the day, leaving the station empty for a short while.
One lady I spoke to said she uses the Pinefield bus every day to get to her work, but has experienced problems for a "good few weeks now".
She said: "It's terrible, it doesn't appear. You could get the 7.50am one and it just quite often doesn't appear, that's the most annoying thing.
"I then have to walk it, I live at the top of New Elgin so it's quite a walk. If it doesn't appear, you just have to start walking. And it's worse when it's raining."
---
Have you experienced any problems with bus services in your area? Let us know in the comments section below
---
Meanwhile, student Danielle told me that she gets a bus from Cullen to Elgin for her college course, and now has to get a bus from Elgin to Keith for her placement.
She said she normally takes the 35.
The 18-year-old has only been using the buses since starting her college course three weeks ago but has had no problems so far.
It probably also doesn't hurt that she gets them for free, because she's under 22.
Speaking of youngsters…
Teens at bus station off-putting for some
An older gentleman told me he "seldom" uses the buses now, but he used to catch the number 10 to Inverness to just enjoy a day out.
He said: "I used to go a run to Inverness one day a week, but it got so confused and so unreliable I just stopped going. I would just jump off the bus and wander around the streets before getting the next bus home.
"It was reliable last year, but I've heard so much about these youngsters with their free passes and they appear to be very rowdy on the buses.
"I'm nae putting up with that."
Later on in the afternoon, crowds of teens started gathering at the bus station, while the rain drizzled on. They were busy vaping, shouting and swearing at each other.
Some even started pushing each other around, with one girl being shoved into me. I could see why people were fed up, and even intimated, waiting for buses there.
I decided it was time to abandon my post and call it a day.
If Moray bus routes are bad enough now, what about during winter?
On Wednesday morning ahead of my return trip to Aberdeen, the bus station felt eerily quiet, but soon enough folk started to flock around their stance.
I got chatting to a lady who said her biggest problem is with the new bus timetable. She stays in Bishopmill and can't walk very far, so relies on the bus to get her into town so she can meet her friends.
The pensioner said some of her pals who use the number 10 to get into Elgin have been struggling with the cancellations, and she's worried they will start to miss out on their weekly meet-ups.
She also said her bus, which is the Lossie service, has been very disrupted lately.
She told me: "I've got to grab a bus when it's there, cos there might not be another one for another hour.
"I don't have a phone with an app to check it, and I've been speaking to other folk who say the app isn't always right.
"It's a disaster really. What happens when the snow and ice comes? Am I going to be restricted to my house?
"One minute you've got 100 buses here, next minute there's none. I canna say I'll stop using the buses because I don't have a car, and I can't afford taxis — it's impossible."
How are Elgin businesses affected by bus timetable troubles?
After chatting with passengers at the bus station, I decided to take a walk around and check out some nearby businesses.
Sharon, the manager of Begg Shoes, told me the disruption hasn't affected the business, but it has had an impact on her employees.
One of the ladies who works for her lives in Lossie and often has to arrive in Elgin an hour early or face being late.
Jenny, who recently moved to New Elgin, also told me she has to get the bus that takes her to work almost an hour early and has to spend the time in Starbucks waiting for the shop to open.
Chloe used to get the bus to work from Lhanbryde every day, but she now drives because of the disruption and how unreliable the service has become.
She says she would also feel intimidated by the "hordes of kids" at the bus station, especially waiting with the darker nights rolling in.
She said: "In one month, I kept all my receipts — I paid £300 for all my tickets.
"I can fill my diesel car for £20 a week and drive to work, but I do have parking to pay on top of that."
The ladies all agreed that the bus drivers aren't the problem, and they are all normally very nice, but there's a problem with the timetables as well as the free passes for those under 22.
Meanwhile, Alison from the salon LCTG said that none of the hairdressers have been affected by the bus disruption, but she can hear her customers complaining about it.
Not everyone has a smartphone to check bus timetables…
She said some of the ladies say they need to be out by a certain time to guarantee they catch their bus — not ideal if you're halfway through a haircut.
But so far, they have had no missed appointments because of the disruption.
Val who works in Linda's Wool and Needlecrafts says she doesn't get the bus often herself but knows a lot of her older customers can be left waiting for buses that don't turn up.
She said: "I was going to Aberdeen once and there weren't any strikes or anything like that, they just didn't have the drivers. So they just cancelled the bus.
"And I was standing there at the bus stop waiting. And it's okay having your phone and the app or whatever, but if you don't have that you're left standing waiting."
Val can't understand why they can't get bus drivers when Stagecoach pays a good wage.
A customer in the shop at the time complained about there being no paper timetables anymore, and having to rely on phones, which not everyone can operate.
#BBirdServiceUpdate Due to ongoing operational issues, This mornings cancellations for Moray/Elgin Depot are as follows. We apologise for the inconvenience caused. pic.twitter.com/FXnmx4dSEC

— Stagecoach Bluebird (@StagecoachBBird) September 25, 2023
Another customer said: "It's that assumption that everyone has a smartphone.
"And they say they put the changes online, but a lot of older people can't check it."
The lady also pointed out that partially sighted passengers already struggle to read forms and rely on the bus turning up at specific times.
Val added that many people use the number 10 bus to get to hospital appointments, and if it doesn't show up the next one, whenever it is, will be too late.
"They're not reliable, and there's often no staff there to go and ask," she finished.
A wee bit of disruption for me…
After hearing about the M96 and how much better it was than the number 10, I decided to give it a shot on the way home.
Because it has fewer stops than the number 10, it also takes 30 minutes less.
I was planning to get the 4.37pm service from Elgin to Aberdeen, and when I looked in the morning Stagecoach had said there were no expected disruptions.
But thanks to a kind lady who pointed out where staff put up the small, hard-to-spot, list of cancellations on one of the office doors, I realised it wasn't running.
I had two options: either get the 2.37pm bus, which would mean cutting my trip short by a couple of hours, or the 6.37pm service getting me home closer to 9pm — which was also the last M96 heading to Aberdeen for the day.
I chose the later bus, thinking I wanted to spend a bit more time in Elgin. It was inconvenient, but I guess it wasn't the end of the world. And I could have got on an earlier 10 service if I really wanted to.
A tense wait in the cold at Elgin bus station
Before I made my way down to the station, I pulled on a spare jumper in an attempt to stay warm. As the evening started to close in, it was much colder and wetter than earlier on and the St Giles was already locked up for the day.
While I was waiting, a couple of teens sat on the bench next to me, pulling out some tins of Strongbow.
I could hear them talking about getting on this M96 or waiting for a number 10.
I couldn't help but hope they would get the next bus, and much to my relief, I could hear one of the boys complain the M96 wouldn't stop where they really wanted to get off.
So they settled on the number 10, and I felt a wave of relief wash over me. However, I felt bad for whoever else may end up with them on their bus as they got louder and louder as they got through their cider.
I was also happy to see the M96, also known as the Gordon Highlander, smoothly roll into the station 10 minutes or so early to allow the drivers to swap over.
If only the driver had let us on early instead of waiting out those long minutes in the cold.
M96 Elgin to Aberdeen route – was it better?
I wasn't sure if my Stagecoach return would work on this service because bookings are through City Link, but sure enough, I was allowed on.
I found myself a comfy seat, and taking a glance around I noticed there were toilets up the back.
Despite Storm Agnes raging away and rain pelting off the roof, the journey was much more comfortable — but still that little bit colder with other passengers wrapped up in jackets and hats.
The M96 only has 10 stops between Elgin and Aberdeen, making it a faster journey than the number 10.
We were ever so slightly delayed because of some roadworks before Huntly, and I could hear another passenger get more and more agitated while the light remained red.
Other than that, it was a smooth ride back to Aberdeen.
In conclusion: is the bus disruption in Moray really that bad?
I think the M96 makes a difference to the route, especially for those just wanting a quick link between places — but it doesn't stop at key places like ARI, unlike the number 10.
It's clear to me there's still an issue with buses being cancelled across Moray.
And there is a wider problem with hiring bus drivers.
But, not everyone seems to be as badly affected as I initially thought.
Some people told me they had no issues with the buses at all, and other businesses in Elgin didn't even know about any disruption at all.
Buses still run across the area, so while there are some missing throughout the day, I think a lot of people are now well used to planning around the problem.
I do think more could be done to communicate any disruption to those who rely on the services but don't have smartphones — like electronic signs at the stops updating people on the times perhaps.
For me, my travel wasn't as disrupted as I thought it would be, which was good news for avoiding the stormy weather.
Next time I'm heading to Elgin, I'll be sure to catch the M96 for a faster, more comfortable journey though.
---
Read more about the Stagecoach bus disruption: