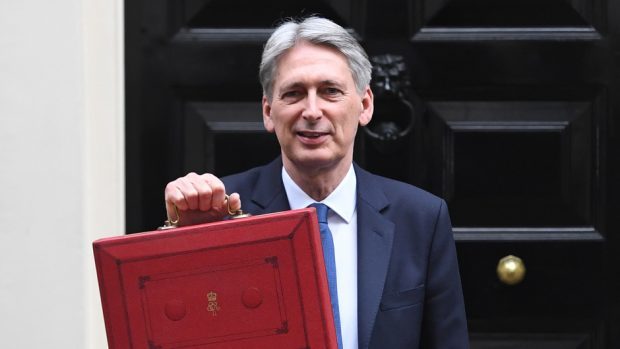 Chancellor Philip Hammond insisted this "great United Kingdom" is "stronger together" as he unveiled a £350million boost for the Scottish Government in his spring Budget.
The Tory frontbencher also said he had "heard" the pleas of the oil and gas industry, confirming a formal discussion paper on the case for allowing transfers of tax history between buyers and sellers would be published.
While this step was welcomed, he came under immediate fire over plans to increase National Insurance Contributions for the self-employed.
Amid accusations of breaking an election manifesto promise not to raise them, the SNP branded the move – met with near silence on the Tory benches – a "serious attack on aspiration".
Economy spokesman Stewart Hosie said it would discourage people from starting their own business.
And Labour's shadow chancellor John McDonnell called it an "unfair £2billion sole traders tax" on self-employed low and middle earners.
Mr Hosie also criticised the lack of references to Brexit in the chancellor's speech, calling it the "elephant in the room".
Mr Hammond did not use the word when addressing MPs, although did talk about the UK's future outside the EU and mention the forthcoming withdrawal negotiations, albeit briefly.
He said his Budget provided a "platform" for them as well as for the continuing the task of "getting Britain back to living within its means".
Delivering his first and last spring Budget from the Despatch Box, he told MPs: "Our task is to take the next steps in preparing Britain for a global future.
"Economic policy does not exist in a vacuum, and economic growth is a means, not an end in itself.
"The objective of our economic policy is to support ordinary working families, and to build an economy that works for them."
He said the UK had a "proud history" adding: "We have done remarkable things together.
"But we look forwards, not backwards, confident that our greatest achievements lie ahead of us."
The £350million additional funding for the Scottish Government comes through the Barnett Formula – used to calculate public expenditure allocated to the devolved nations – due to increased UK Government spending on health, social care and education.
Mr Hammond said this demonstrated "once again that we are stronger together, in this great United Kingdom".
He added: "Benefiting from £350million of extra investment, the Scottish Government can take further steps to strengthen Scotland's economy and make sure that Scottish people, of all background and no matter where they live, feel the benefits of economic growth."
Scottish Secretary David Mundell said together with the money from the autumn statement, this totalled an extra £1billion of investment in Scotland.
He added: "It is now up to Holyrood to use this money, along with their raft of newly-devolved powers, to make the right decisions to grow Scotland's economy."
The Scottish Government has said, however, that any additional funding for Scotland should be viewed in the context of the "huge cuts" it is already facing.
Meanwhile, in other measures, the chancellor froze fuel duty for the seventh successive year.
He also confirmed that the personal allowance would increase to £12,500 by 2020-21, which the government said would take 113,000 individuals out of income tax altogether.
And he said he would make no changes to previously planned up-ratings of duties on alcohol and tobacco.