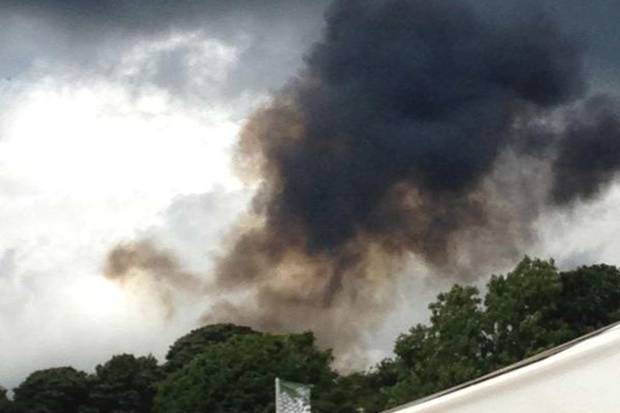 Police have confirmed a pilot has died after his plane crashed during a display at a motoring event in Cheshire this afternoon.
The stunt plane was taking part in a dual display when the accident happened shortly after 2p during the CarFest event at Oulton Park Circuit.
Witnesses described an "eerie" silence as the crowds watched the aircraft plummet from the sky.
TV presenter Chris Evans is the founder of events and informed the media of the fatality.
The visibly upset presenter said: "There was a tragic accident, the result of which was that one of the pilots involved in a synchro display lost his life.
"Our condolences go out to his family who have been informed.
"The police have also advised us that the best thing and the safest thing to do is to carry on with the event bearing in mind that there are 10,000 children here – and that is what we are going to do."
He said it would be "completely inappropriate" to speculate on how the accident happened. Mr Evans said he would give a tribute to the pilot at a later point.
An Air Accidents Investigation Branch (AAIB) spokesman said: "AAIB will be investigating and is sending a team to the site."
A police  investigation has also been launched. A spokesman for Cheshire Police said: "Shortly after 2pm we received reports of a plane having crashed in a wooded area near the CarFest North site."
"Officers are currently at the scene working to find out what has happened."
"The incident is in a very early stage and more details will be released when they become available."