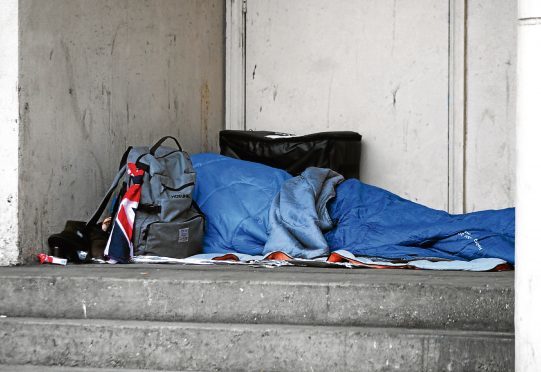 In 1943 the US psychologist Abraham Maslow set out his Hierarchy of Needs.
It states that only when a person's basic human needs are met – food, shelter and love (support) – can they begin to develop and improve other areas of their lives.
At Social Bite we subscribe very much to his theory – and three quarters of a century since Maslow published, it underpins the core of our work.
The real challenge we face is to bring about a systemic change in which these values are not only honoured but replace the punitive and stigmatising system currently in use.
The present response to homelessness does not work.
People are congregated in unsupported, shared residential or hostel accommodation until they are deemed 'tenancy ready'. In these shared environments, people are further stigmatized, must vacate premises during the day, have access to limited or no food storage or cooking facilities and are exposed to unsafe and chaotic behaviour.
With these background conditions, it can be difficult for people to maintain a tenancy when they do move on to settled accommodation.
This systemic failure has catastrophic consequences for highly vulnerable people who suffer repeat homelessness and ever deteriorating health and social problems, often leading to premature death.
We need to transform the homelessness system in Scotland to provide effective support for vulnerable people with complex needs to access and sustain permanent housing. Many people affected face a variety of barriers including isolation, unemployability, mental health issues and inability to access necessary support.
Change is possible and it is inevitable. Building a collaborative movement that invites and encourages every sector, industry, and individual to do what they can, with what they have, to see homelessness ended in Scotland. Everyone deserves a safe place to call home; this is a basic human right. So often people feel helpless and overwhelmed by issues in society,
Our Housing First programme will take 830 of Scotland's most vulnerable people into stable permanent homes, marking a shift away from ineffective, unsupported temporary accommodation. With an internationally proven 80-90% sustainability rate after two years, this approach offers a real possibility of success and a radical shift in current policy.
The Social Bite Village is a project that combines a pioneering housing model, using vacant council owned land, along with a supported community environment. This will be home for 12-18 months to 20 people who are currently trapped in the temporary accommodation cycle. The project is entirely geared at breaking the cycle of homelessness and giving residents pathways into employment and permanent housing, restoring hope and confidence.
Five residents have already secured paid employment, while a further five have enrolled on courses at nearby Edinburgh College or the Open University. One resident has started taking Spanish lessons, while members of the community are also encouraged to take part in yoga classes twice a week and complete a "daily mile" to keep fit. We are excited to watch this transformational community continue to develop. Social Bite has already started speaking to other cities about recreating it around the UK.
Sleep in The Park offers an opportunity for people to join a mass movement to raise funds, raise their voices, and raise homelessness further up the political agenda.
It is the largest ever event of its type, with around 10,000 people joining together to call for an end to homelessness in Scotland, for good.
What it is not is an exercise in pretending to be homeless. It is a fundraiser which, we hope, will ensure nobody is forced to sleep on the streets ever again.
We are hosting four events, one in each major Scottish city. Each will feature gigs from superstar acts, a bedtime story from an iconic local figure and the voices of those with lived experience – people who have experienced homelessness and housing insecurity.
It is 2018 and we are living in the fourteenth richest nation, Scotland, a nation of pioneering innovation. Not only will we be shinning a light on the issue of homelessness but expanding consciousness.
It is incredible to have so many people joining the movement and believing that when we all play our part, it is possible for Scotland to be a nation where everyone has a safe place to call home.
So we would like to say a massive thank you to the 1,800 people who are taking part in Sleep In The Park in Aberdeen's Duthie Park.
---
Josh Littlejohn MBE is the co-founder of Social Bite