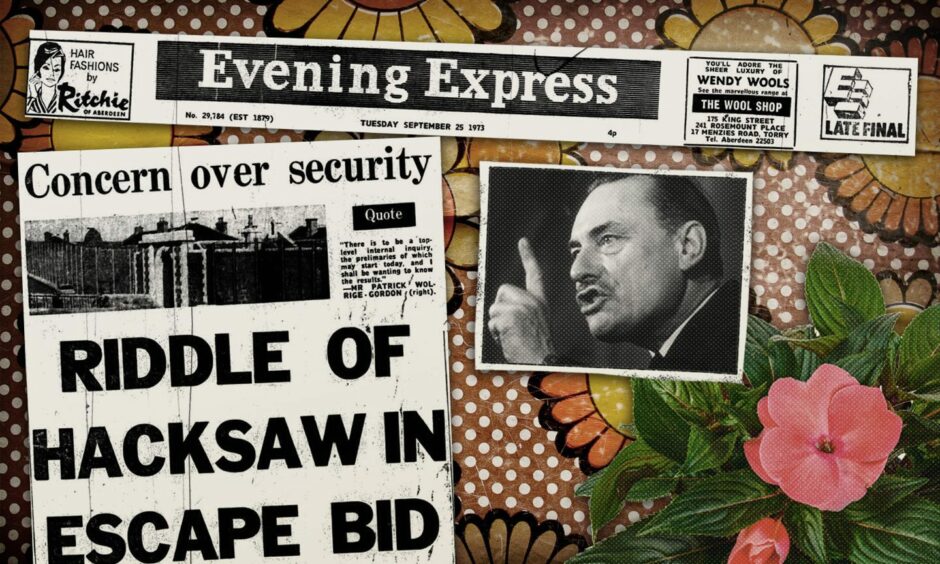 Almost half a century before the row over the audacious escape of Daniel Khalife from Wandsworth prison, Peterhead prison was having a similar moment.
Convicted double murderer Donald 'Ginger' Forbes had escaped from HMP Peterhead for the second time in two years, sparking a nationwide manhunt.
Police warned: "This man is dangerous. If you see him do NOT approach him."
As the EE reported the previous day: "Forbes had already twice made legal history by becoming the first man in Scotland to marry while awaiting the gallows [this was in 1958, prior to the abolition of the death penalty for murder in 1969] and years later—after a dramatic reprieve—by killing yet again while on parole."
Forbes' first break for freedom lasted five days before he was caught in Edinburgh, only yards from the scene of his first murder.
This time, it appeared he had possibly sawn through the lock of his cell with a hacksaw.
He didn't get very far and was later apprehended hiding in the grounds of the prison.
Prison officers repeated their call for a 'secure establishment' for high-risk prisoners like Donald Forbes, saying they were still awaiting implementation of the 1966 Mountbatten report that a special high-risk jail be built.
In the event, Scotland's high-risk jail, HMP Shotts, would not open until 1978, upgraded in 2012.
Prized houseplants at the heart of a mysterious whodunnit…

From the dangerous to the simply ditsy—a Fraserburgh housewife convinced that her prize 'Busy Lizzie' plant had been gassed to death, in her all-electric house.
According to the EE, Lena Strachan return home to find her beloved plant 'mysteriously withered'.
"And with a strong smell of gas around the house her husband Bill came to the conclusion that the plant had been gassed.
"But that was impossible Lena thought, for their home at 68 School Street was ALL ELECTRIC."
The Gas Board was called and eventually a leak was found, from a broken pipe about 30 yards from the house.
Call me cynical, but perhaps there was a clue as to the hapless plant's actual fate, when Mrs Strachan told the EE: "We were away for a few days and we left the plant in the lobby. I have had it for a few years and was really disappointed when I came back and found it had withered," she added.
That's what happens when you go away and forget to water plants.
A fuss was definitely not made about how dangerous the leaking pipe could have been to the entire neighbourhood.
Gender in the headlines
Gender equality was getting short shrift from the outspoken and often inflammatory MP Enoch Powell. 
He described proposals to set up an Equal Opportunities Commission (EOC) banning discrimination on grounds of sex as "a huge piece of idiocy".
He said proposals to set up such a commission and legislate to ban discrimination would meet with 'a hearty gust of incredulous bell-laughter from one end of the kingdom to the other.'
Fortunately no-one important listened and the EOC was set up two years later.
A potato peeler problem was addressed
Meanwhile, First World problems beset the EEs' readers on this day in 1973.
"The hosepipe of my automatic Duchess potato peeler has perished," lamented one reader to the EE's consumer column, Counter. " Can you tell me where to buy a replacement?"
Another reader begged for a musical alarm clock to wake him up in the mornings as he found the bell 'a bit jarring' first thing.
Yet another offended all known realms of taste by asking where she could get a wall bracket for plastic waste paper bags.  (It was the 70s after all).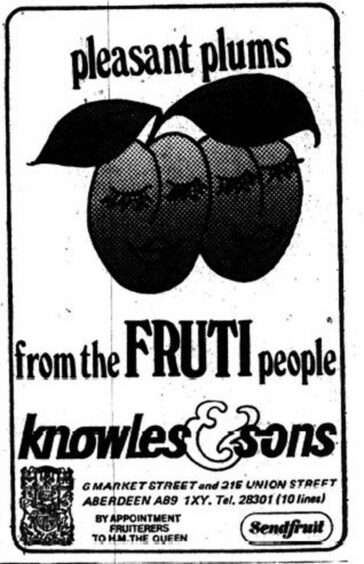 And what do you make of this advert for Knowles & Sons fruit shop in Market Street and Union Street?  Pleasant plums indeed!
More from our On This Day series: