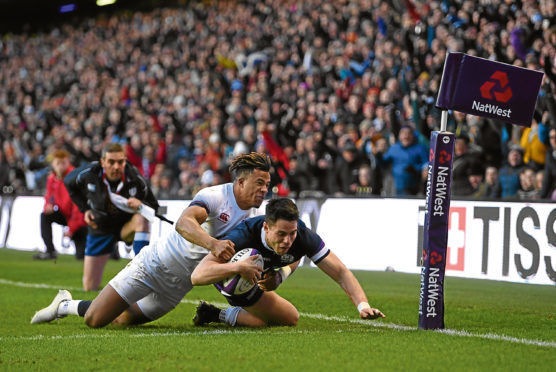 The first 20 minutes in Dublin will be a key factor in Scotland beating their Six Nations away day difficulties and building on the Calcutta Cup victory, believes Stuart McInally.
The now established front-line hooker, who has played the full 80 minutes of both the wins over France and England, can expect to start again against the Irish on Saturday even with Fraser Brown returning from injury to the squad this week.
And while the squad aren't playing down their record away from Murrayfield in the championship – just two wins outside Italy since it became the 6 Nations in 2000 speaks for itself – they do believe it shouldn't define the squad.
"We beat Australia in Sydney less than a year ago," pointed out McInally. "The players definitely took a lot of confidence from that, it was a big team to turn over away from home.
"It's just knowing it can be done. It's the same size rugby pitch and it's 15 on 15, it's just how you can control your emotion and not let any external factors get the better of you. It's something we'll get better at as we go on."
It hasn't escaped the squad's attention that their last two away trips in the 6 Nations, at Twickenham and Cardiff, have both seen the side suffer dreadful starts they were unable to recover from.
"In Wales we were just too inaccurate in that first 15 to 20 minutes and going 14-0 down was a real killer," he said. "It's always good to start well and if you're under the pump, it's not great.
"In Wales there wasn't any sense of panic, we thought we could have still gone on and won it, but we didn't improve for the rest of the game.
"But that first bit will be a bit more controlled and it's the little things that make a big difference. We looked at that Wales game a lot, we put it to bed after spending a lot of time looking at it, just to make sure that would never happen again."
The atmosphere of an away ground is not a factor for McInally, who says he barely feels the crowd once the game gets started.
"I always find it amazing now that I'm involved in playing for Scotland how you don't even notice the crowd," he said. "I seriously don't find it too different playing for Scotland than playing for Edinburgh at Myreside.
"You're so focused on what you need to do, as soon as you start letting your eyes wander towards anything external you hamper yourself.
"I always remember watching internationals before I was capped and thinking 'it's a big lineout, he must be really nervous throwing it' then when you're there you don't even think twice about it, it's just the way it is."
McInally's shifts in the last two games are out of the ordinary for a hooker in today's game, but while he admits to being "obviously knackered" during the final few moments against England he feels playing more has given him greater staying power, enough to still be strong enough to make that final turnover two weeks ago.
"It's a feeling I have that if I'm playing well I'm going to stay on," he says. "As long as I'm contributing about the pitch and when it gets to 60 minutes I don't feel that I'm done, then great.
"In years past I would get to 60 and start to look athe bench to see if anyone's warming up. But I'm in better shape now and it's just on the back of playing more this year, for Edinburgh and now for Scotland.
"70 minutes into the Calcutta Cup was tough but once you get there, you just think `right, big final 10 minutes'. I'm not good at hiding being tired but somehow I can just keep going."
McInally's team-mate Sean Maitland, meanwhile, reckons taking on Ireland in Dublin will be a "different beast" despite the Calcutta Cup heroics.
Maitland, who scored in the win over England, said: ""We can take a lot of confidence from the last game, but we know it's a different beast.
""Everyone's been talking about our away form but we're not resting on our laurels.
"There was a bit of an edge to our training yesterday, from the whole squad, the whole 42 players. That's going to help us massively this week."
Their away struggles were harshly exposed in their opening 34-7 thrashing by Wales, and the Saracens winger thinks that has given a false impression of the real situation.
Maitland said: "I wouldn't say we struggle; obviously we were really disappointed about that first game but this team went over to Australia and beat them away in Sydney and that's not even a year ago."