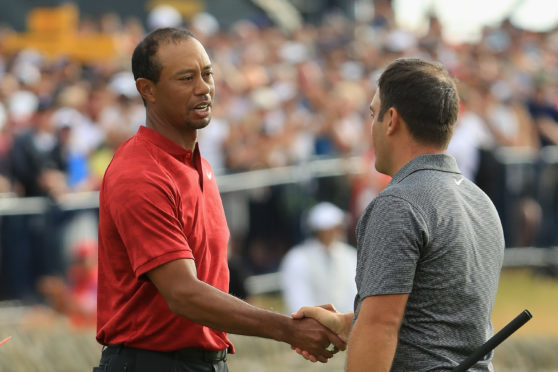 Tiger Woods had mixed emotions after failing to end a 10-year wait for a 15th major title.
The former world number one, who started the day four shots off the lead, was outright leader by the time he reached the turn at seven under par.
But his challenge was to falter on the back nine after dropping three shots over the space of two holes on his way to a level par 71 and a share of sixth spot.
After finishing three shots behind playing partner and Open champion Francesco Molinari, Woods said: "I am a little ticked off at myself.
"I had a chance starting that back nine to do something and I didn't do it.
"I did everything the way I thought I needed to do to win the championship this week.
"I need to try and keep it in perspective because at the beginning of the year I would have said I'd be very lucky to even be playing in The Open championship."
Woods, whose daughter Sam and son Charlie were at Carnoustie, was pleased to prove to his children that he could still compete at the top level.
He said: "I said, 'Hopefully you're proud of your pops for trying as hard as I did.'
"It's emotional because they gave me some pretty significant hugs.
"I know they know how much this championship means to me and how good it feels to be back playing again.
"It's just so special to have them aware because I've won a lot of golf tournaments in my career but they don't remember any of them."
Rory McIlroy was also feeling upbeat after finishing tied second after a closing round of 70 for a six-under total.
He said: "It was great to be a part of it, hear the roars and for Tiger to be back in the mix.
"For a while, I thought Tiger was going to win. My mindset was to go and spoil the party.
"It was really cool. I have no regrets. I played the way I wanted to play this week.
"It gives me a lot of encouragement going into the final major of the year."