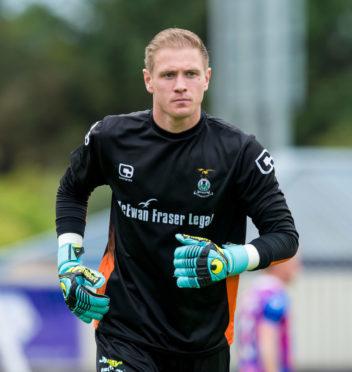 Caley Thistle goalkeeper Cammy Mackay has joined Rothes on loan until January, with a new rule change allowing Inverness to temporarily recall him in the event of an injury to Mark Ridgers or Daniel Hoban.
Mackay has been sidelined in recent weeks with an ankle injury which he suffered in pre-season, shortly after signing a new two-year contract with his hometown club.
The 21-year-old, who has made five appearances for Caley Jags, made his temporary switch to the Speysiders in time to play in Wednesday's 1-1 draw against Nairn County at Station Park.
Inverness manager John Robertson says new ruling allows him to recall Mackay on a week-to-week basis in the case of an emergency situation, and he said: "The rules have changed slightly where you can bring goalkeepers back in an emergency from a loan if a first choice goalkeeper gets injured. If somebody was to be out for three weeks, as long as we have a medical certificate Cammy would be able to come back for those three weeks and then go back to Rothes.
"It makes sense – Rothes are looking for a keeper and Cammy needs games. He suffered an ankle injury that seemed quite innocuous at the time, but he'd damaged ligaments.
"He will still go window-to-window, but there's a much more flexible way of allowing him to come back if something happens to one of our goalkeepers.
"It is good and helps a lot of teams. These games will allow Cammy to put pressure on Daniel Hoban and Mark Ridgers."
Ahead of tonight's transfer deadline, Robertson has not ruled out any further movement but is not rushing to make changes, adding: "We may, we may not. There are one or two things floating about, but I'm quite comfortable with the squad we have at the moment.
"There are one or two things we've looked at but a couple were basically likes for likes and one we've possibly got covered.
"I'm not in a hurry to do anything and there's nothing major happening.
"We've spoken to one or two players about their lack of game-time. They've expressed their frustration at that, but unless something pops up that suits them that's a no-goer as well.
"We'll continue those chats right up to the deadline and see where we are, but there is nothing major in or out that's going to cause a stir."