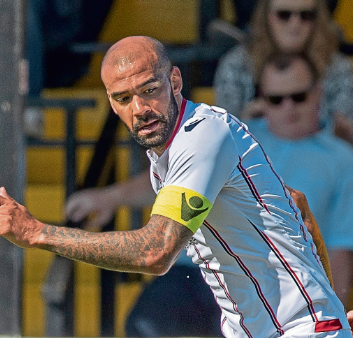 Injuries are a frustrating part of every footballer's career, however Ross County defender Liam Fontaine cannot be accused of failing to make the most of his time on the sidelines.
Englishman Fontaine took his first steps in the music world on Friday, when he released his debut single "Life Lessons" on the eve of County's 0-0 Highland derby draw against Caley Thistle.
The release was the end result of a hobby which has snowballed since Fontaine first took up playing the guitar in his spare time during a seven-month ankle injury absence when with English club Bristol City, with the song written on the way back from a holiday in Cyprus last year.
The 32-year-old credited music with steering him through difficult moments in his football career, and he said: "It all started about five years ago. I had quite a serious injury when I was at Bristol City. When you're injured long-term it is mentally hard to motivate yourself and you find yourself in little dark places.
"I decided to do something to take my mind off it. I bought a guitar and taught myself how to play.
"I've had no lessons, but music has always interested me and even as a kid there wasn't a day when there wasn't music on. I've always loved going to gigs and it is just something I thought I'd try.
"I got better and better and thought I'd try to write a song. I wrote life lessons on a plane when I was on my way home from holiday in Cyprus last year.
"I had my phone out on the notes section and put some stuff down, coming up with a flow and melody in my head. I ended up putting it down on my guitar when I got home and then played it to one of my friends.
"He laughed when I said I had a song, but listened to it and loved it. He happens to be a DJ and producer on the side from his full-time job and he produced it."
Former Hibernian player Fontaine explained the meaning behind the song, adding: "I was just in the house and Keith Watson was with me at the time and was wondering how I came up with it. I just go through phases when I can do it. You hear a lot of music artists say sometimes they're in good zones or in that purple patch of creativity. It just comes to you.
"It has a meaning any given person can relate to in life. I wrote mine based on my injury, learning from it rather than beating yourself up and thinking you're on your own."
Fontaine has high hopes for the future, as he awaits the reaction to his first single, and he added: "We'll see how it is received. So far, it has been really good although it is obviously hard to get the coverage and amount of listens you'd hope.
"I'd love it to chart, if I'm honest – I think it is a good enough song.
"It is just getting that exposure and getting it heard by the right person or the right radio station.
"I was speaking to somebody last night about producing and maybe releasing two more songs as a double together. Those two are probably better."